'Bold And The Beautiful' Spoilers: Brooke And Ridge Argue Over Steffy And Hope
They both want their daughters to end up with Liam, and their opposing views will begin to take a toll on Brooke and Ridge's marriage on the Tuesday, May 22 episode of "The Bold and the Beautiful."
Brooke (Katherine Kelly Lang) and Ridge (Thorsten Kaye) have been in disagreement over who Liam (Scott Clifton) should be with for a while on the CBS soap, with Ridge continually fighting for his son-in-law to return to Steffy (Jacqueline MacInnes Wood) and their marriage before their daughter was born. Meanwhile, since the news that Liam had filed the annulment papers and proposed to Hope (Annika Noelle), Brooke has been championing her daughter as the perfect person for him and has been pushing for the pair to marry as quickly as possible.
In a preview clip for the episode, she will continue to ease her daughter's worries about people trying to destroy her plans with Liam, assuring her that she and Liam are made for each other and meant to be together for the rest of their lives.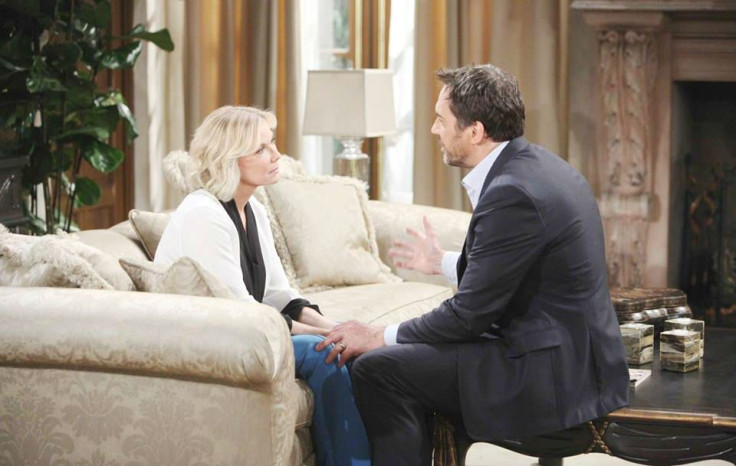 "Some couples are just meant to be," Brooke says in the clip.
However, the happy feelings could evaporate when Ridge comes home and potentially blows up at his stepdaughter about her plans to marry Liam, warning her that Liam was misinformed about Steffy continuing to sleep with Bill (Don Diamont) behind his back. He will inform her that her marriage will be built upon a lie, and no matter how hard she tries to make it work, it will eventually fall apart because Liam will learn the truth, and when he does, his heart will once again compel him to make things work with Steffy, who will also have his child.
When it's clear what he says will upset Hope, Brooke will then take control with her husband, ordering him to let go of the past and embrace the obvious future, no matter how much he doesn't like it.
"Just accept it," she orders in the clip. "For the family, and for me. Accept it."
However, Ridge may not be able to, and the tension could start to force some big cracks into his marriage with Brooke as a result.
"The Bold and the Beautiful" airs weekdays at 1:30 p.m. EDT on CBS.
© Copyright IBTimes 2023. All rights reserved.