'Bold And The Beautiful' Spoilers: Does Bill Name His Shooter?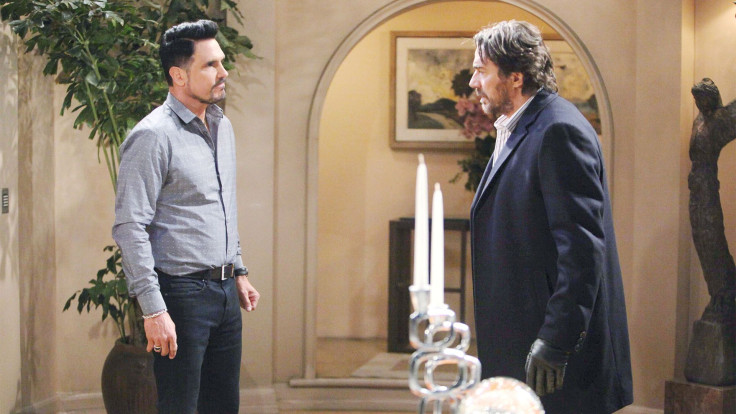 He's finally awake, and now, Bill may name who he believes shot him on the Thursday, March 22 episode of "The Bold and the Beautiful."
Bill (Don Diamont) finally began to wake up from the coma he's been in on the CBS soap, after someone broke into his home and shot him in the back with his own gun. The police have been desperate to find out who may have tried to kill him, and Bill seemed ready to give them a name. Not surprisingly, he will likely seize the opportunity to take down his biggest enemy—and could name Ridge (Thorsten Kaye).
Though he already spoke with police and said he wasn't the murderer, Ridge has remained a suspect in the case. Un fortunately for him, he hasn't made things easier on himself by continuing to express his rage towards Bill for the things he did to Steffy (Jacqueline MacInnes Wood). Now, after discussing the fact that Bill tried proposing to Steffy the same night be was shot with Hope (Annika Noelle) and Brooke (Katherine Kelly Lang), he will once again make a shocking statement about how he believes Bill got what was coming to him.
"He pushed someone too far, and now, Spencer has to pay the price," he says in a preview clip for the episode. "Finally."
However, is Bill does name him as the shooter and the police are outside the dor and hear that, it could prove to be Ridge's own undoing, as statements like that aren't likely to help him prove that he did not try to kill Bill.
Meanwhile, after staying by his father's side while he was unconscious, Liam (Scott Clifton) may be feeling differently now and could avoid the hospital now that Bill has woken up, after he learned about the proposal as well. Now, when Steffy goes to talk to him about it, he will reveal that he thinks his father warned him he would try and steal Steffy away if he didn't make things right.
"He said that if I didn't take you back, then it would be the greatest regret of my life," he says in the clip. "I didn't know it at the time, but that was a threat. He was threatening me."
"The Bold and the Beautiful" airs weekdays at 1:30 p.m. EDT on CBS.
© Copyright IBTimes 2023. All rights reserved.