'Bold And The Beautiful' Spoilers: How Will Wyatt React To Sally's News?
She was all set to move with him to his father's company and start her own line there, albeit not with her name attached. Now that she's received a more lucrative offer to stay at Forrester, Sally will break the news that she's reconsidering their plans to Wyatt on the Thursday, March 28 episode of "The Bold and the Beautiful."
As she said her goodbyes at Forrester, Sally (Courtney Hope) was surprised when Xander (Aidan Bradley) and Tiffany (Maille Brady) showed up wearing her designs from the athletic concepts she came up with and admitted that a celebrity had expressed interest, the Forresters quickly jumped to offer her a brand new line—one with her name attached. However, she was already committed to joining Wyatt (Darin Brooks) at Spencer and designing for the new Spencer fashions line. As a result, she needs to decide now what the best move is for her future.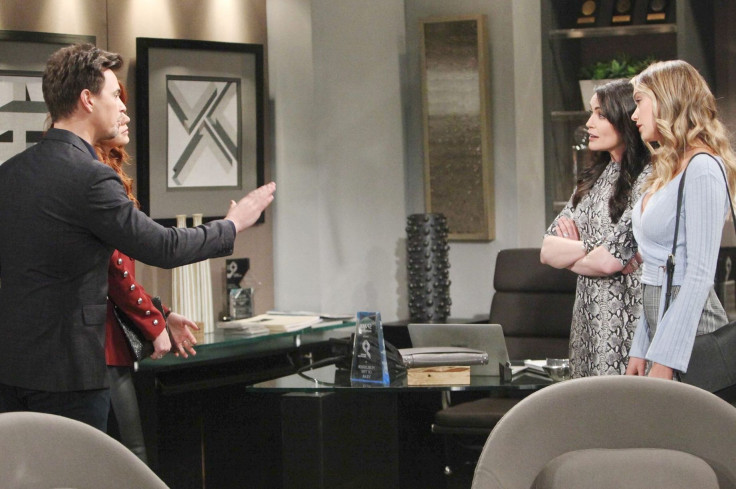 Now, as she shares the big opportunity with Wyatt, she will learn how he feels about the situation.
"Sally takes Wyatt off guard with news she is reconsidering her move to Spencer Publications," spoilers reveal.
Though getting a new line of her own with her name on it is something that would be huge for Sally, a preview clip for the week's episodes (see above) show that Wyatt may not actually be as happy for her as she'd hoped.
In the clip, Wyatt seems devastated by the news—and is actually asking his girlfriend what this would mean for their future. He put a lot on the line when it came to the condition that he came back to Spencer, and if she goes back on it, it could have negative consequences for him. As a result, the decision she makes could impact their relationship for good.
"The Bold and the Beautiful" airs weekdays at 1:30 p.m. EDT on CBS.
© Copyright IBTimes 2023. All rights reserved.