'Bold And The Beautiful' Spoilers: Liam Confronts Bill About His Building
He has fantasized what he could do to take his father down after his recent crimes, but instead, Liam will choose to once again attempt reasoning with Bill instead on the Wednesday, Sept. 6 episode of "The Bold and the Beautiful."
Previously on the CBS soap, Liam (Scott Clifton) realized his father, Bill (Don Diamont), had ordered the fire which burned the Spectra creations building—and all of Sally's (Courtney Hope) designs—to the ground. He confronted his father about the crime and was stunned when he learned that his suspicions were true, but kept quiet to everyone except for Steffy (Jacqueline MacInnes wood) because of Bill's threats he would disown him if he exposed the plot.
Since then, Liam has fantasized exposing Bill to Wyatt (Darin Brooks), Sally and Thomas (Pierson Fode), and also exposing the lie about Caroline (Linsey Godfrey) dying, and the fantasy was a satisfying one, which saw him and Wyatt taking over the company and Bill being carted off to jail for his crime. He hasn't actually enacted such a plan yet however, and for now, the secret remains as one.
Now, he will go to his father, who has already made contact with CJ (Mick Cain) about potentially using the space where Spectra once stood to build his skyscraper he has been hoping to build there for months, and warn him that he isn't going to let him get away with the new plot.
"I'm not going to let you scheme Sally and her family out of their property because you need to tower over LA," he says in a preview clip. "You're not putting a damn building on their property."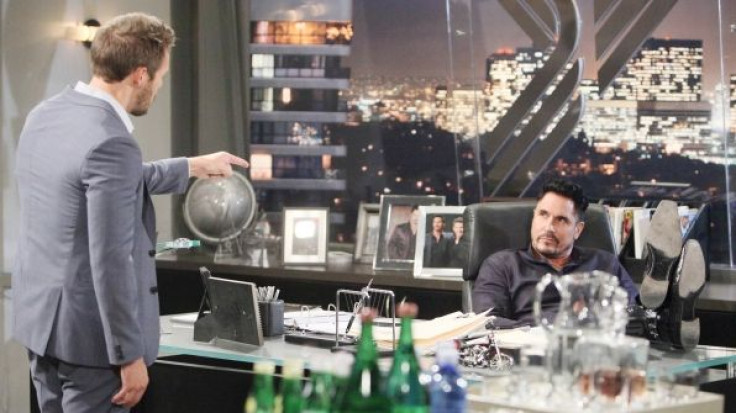 However, Bill will maintain that he is going to get his way now, with or without Liam's help, and that C.J. has actually made an offer on the property already. When Liam continues to protest the fact that Bill got this through illegal means however, his father will once again threaten him and warn him that he isn't going to stand in his way, or there will be severe consequences that he will face.
"You will not say or do anything to compromise my acquisition of that property or the construction of Spencer Tower," he says.
Knowing that his father means it when he threatens him, Liam will once again find himself torn about what to do when it come to the situation. He doesn't want Sally or Spectra to lose out on what was rightfully theirs, nor does he want them to have to shut their doors as a company for something that wasn't their fault to begin with.
However, he will also be torn because he doesn't want to lose his claim to the Spencer family name or fortune either, and he also knows Steffy will object to him possibly turning his father in as well. Now, how things unfold will be entirely up to him.
"The Bold and the Beautiful" airs weekdays at 1:30 p.m. EDT on CBS.
© Copyright IBTimes 2023. All rights reserved.