'Bold And The Beautiful' Spoilers: Will The Mystery About Beth Finally Unravel?
Liam has been digging into the mystery behind Phoebe's adoption and trying to uncover the secret Thomas and Flo are keeping from Hope. As he continues putting the pieces together, Flo will also be considering whether or not she'll finally reveal the truth on the Friday, July 26 episode of "The Bold and the Beautiful."
Ever since overhearing Thomas (Matthew Atkinson) threaten Flo (Katrina Bowden) at the wedding, Liam (Scott Clifton) has been on a search for answers with the intention of exposing what was hidden from Hope (Annika Noelle) and potentially getting her out of her unhealthy new marriage on the CBS soap. His search has since turned him towards looking at Phoebe's adoption and trying to get more information from Steffy (Jacqueline MacInnes Wood) about what happened there. Now, after placing a call to the hospital in Vegas to confirm Flo was a patient, Liam will also begin asking even more probing questions, as he tries to figure out what seems like holes in the entire story.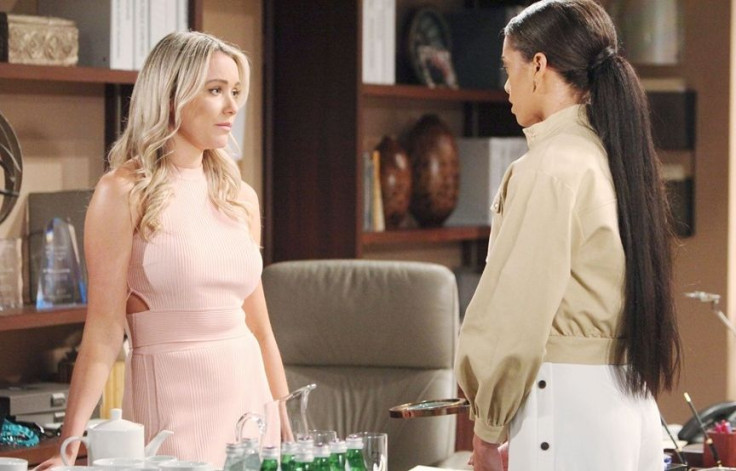 "Liam tries to put the pieces together while listening to Steffy talk about the adoption," spoilers reveal.
Meanwhile, as he keeps closing in and getting closer to the truth, Flo is considering her next move as well, after trying to tell the truth once again, only to be stopped by Thomas' threats—especially his ones where he indicated he would kill her if she tried to ruin everything he's gotten as a result of the secret.
Now, she will once again appeal to Zoe (Kiara Barnes) about the truth coming out, as she reveals just how unhinged Thomas has become.
"Zoe learns Thomas threatened Flo's life," spoilers state.
However, Zoe may feel empathy, but will once again insist on the need to keep quiet, since she fears the consequences they will all face later if the truth gets out.
Still, even with someone else once again trying to stop her, Flo may have finally reached her breaking point—and could decide once and for all to take action, regardless of what it may mean for her future.
"The Bold and the Beautiful" airs weekdays at 1:30 p.m. EDT on CBS.
© Copyright IBTimes 2023. All rights reserved.