'Bold And The Beautiful' Update: Katie And Wyatt Confront Bill And Steffy
They both now know what happened to destroy Liam and Steffy's marriage, and on the Thursday, Jan. 11 episode of "The Bold and the Beautiful," Wyatt and Katie will each set out to confront the people who have hurt Liam so badly.
Katie (Heather Tom) has known about what happened between Steffy (Jacqueline MacInnes Wood) and Bill (Don Diamont), and that their affair led to Liam (Scott Clifton) walking out on his wife. For the most part on the CBS soap, she has been focused on trying to help Steffy cope, and encourage her to believe that at some point, Liam would come back to her, because he isn't the kind of man who would walk out on the child he and Steffy are expecting together. However, she will now decide to go see Bill, her own ex-husband and the father of her son, and her words for him won't be as kind as the ones she's had for Steffy.
Now, fresh after he was disowned by Liam and told off by Wyatt (Darin Brooks), Bill will be angrily confronted by his ex.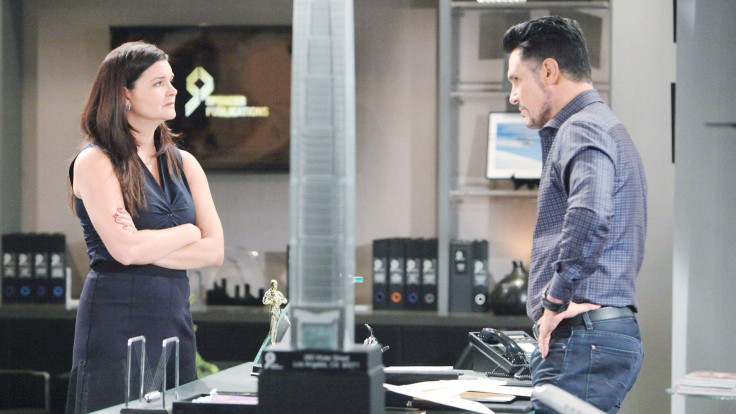 "Over and over again, you sacrifice the things you love for what you want!" She screams at him in a preview clip.
Meanwhile, fresh off of his own confrontation with Bill, where he expressed disgust that his father not only slept with Steffy, but also had the nerve to throw that he had loved her once, before either Wyatt or Liam even knew her, Wyatt will go to see his ex-wife, and demand answers about how she could even consider betraying his brother by sleeping with their father.
"How could you do that to my father?" He asks. "How could you do that to Liam?"
Of course, Steffy and Bill won't be the only two receiving emotional visits. After running into him at the Spencer lobby, Sally (Courtney Hope) realized something big was troubling Liam. Despite his insisting he didn't want to talk about whatever was going on, Sally knew it was something big, and that whatever it was, it had upset him greatly. As a result, she followed him to the motel he is now staying in, and now, she's refusing to leave until he tells her why he's not himself.
"Did something happen between you and Steffy?" She asks in the clip.
"The Bold and the Beautiful" airs weekdays at 1:30 p.m. EST on CBS.
© Copyright IBTimes 2023. All rights reserved.