'Bold Type' Cast Singing: Jane And Kat To Perform Famous Theme Song
"The Bold Type" cast loves a singalong. The Freeform show has often featured the three leads singing at karaoke, and they'll get another number in Season 4B. The summer episodes will show the women singing a famous theme tune.
"That was very fun," Jane actress Katie Stevens said during an appearance on "Good Morning America" alongside Aisha Dee (Kat) and Meghann Fahy (Sutton).
"I think we can reveal this. But we're singing to cheer Meghann's character up and we sing the 'Golden Girls' theme song," Stevens continued.
"I know the song, but I didn't know it by heart," the "American Idol" alum admitted. "And so Aisha came to me one morning when we were about to film it, and she goes, 'This is how we have to sing it.' And it was the gospel version of the song. So people have that to look forward to."
In "The Bold Type" Season 2, fans got two musical numbers. The girls revealed their go-to karaoke song is Abba's "Mamma Mia," and in a later episode, Jane went solo singing Natalie Imbruglia's version of "Torn" during a visit to Sutton's hometown. In Season 3, they opted for an elaborate dance number instead at Sutton's bachelorette bash.
In Season 4B, which premieres Thursday, Kat and Jane will be trying to cheer up Sutton, but it isn't clear why. She's newly married and just got promoted to stylist. However, her husband is still living on the west coast, and the trailer for the summer episodes hints that Sutton might be pregnant.
Fans will have to wait until later in the season to see what drama is in store for Sutton. First, the show has to deal with Jane's recovery from her voluntary double mastectomy and Kat finding a new path after getting fired from Scarlet. Elsewhere in the midseason premiere, Sutton has to dress a troubled starlet.
"The Bold Type" Season 4B premieres Thursday at 10 p.m. EDT on Hulu.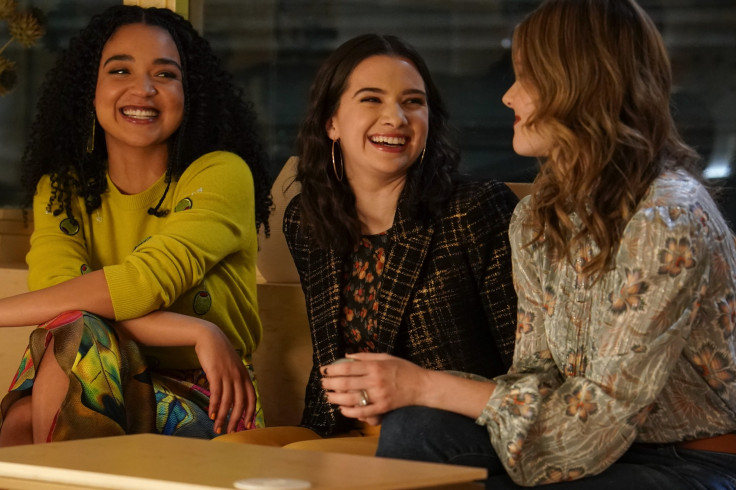 © Copyright IBTimes 2023. All rights reserved.