Bose Used Bluetooth Headphones For Spying On Customers, Lawsuit Alleges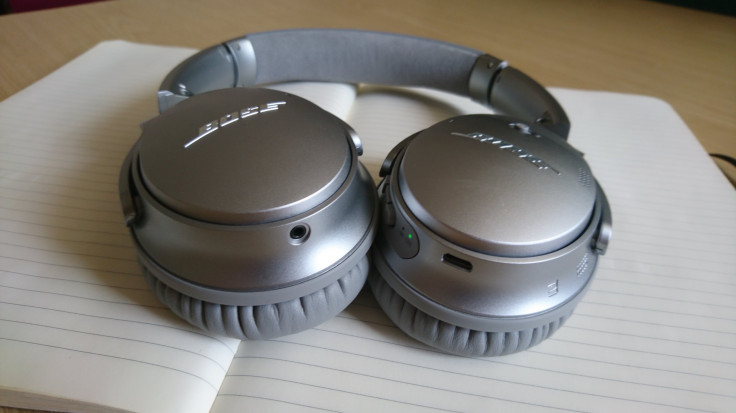 If you use a pair of Bluetooth headphones, you probably think of the convenience of not having the wires that always get tangled, the inconvenient faster draining of your phone's battery, maybe the style factor, and of course, the sound quality. But the one thing you probably didn't think about was if your headphones were spying on you.
But if a lawsuit filed late Tuesday in Chicago has merit, that is precisely what esteemed audio equipment manufacturer Bose Corporation has been doing. The class-action lawsuit in the U.S. District Court for the Northern District of Illinois — filed by consumer privacy law firm Edelson PC — was initiated by Kyle Zak, a Bose customer who bought a $350 pair of BoseQuietComfort 35 wireless headphones. According to the lawsuit, Bose was "secretly collecting, transmitting, and disclosing its customers' private music and audio selections to third parties, including a data mining company."
Customers can install an app called Bose Connect on their smartphones that gives them more control remotely over the Bose devices. In its promotional material, the company also recommends customers install the app to "get the most out of" their devices. However, unknown to customers, Bose was allegedly using data from customer profiles who registered their products with the company, and combining it with their listening habits, and all the data was being shared with other companies.
The lawsuit defines all people in the United States who have purchased a Bose wireless product and also installed the Bose Connect app as the affected class. It wants the court to declare Bose's actions illegal on multiple counts, to force the company to stop recording and transmitting customers' data, and to destroy everything it already has. Compensation has been demanded as well, but the amount was not specified in the suit.
In a statement shared with International Business Times, Jay Edelson, founder and CEO of the law firm representing Zak, said: "This case shows the new world we are all living in. Consumers went to buy headphones and were transformed into profit centers for data miners. What we hope to demonstrate through this suit is that multibillion-dollar companies are not allowed to grab whatever private data they want from their customers simply because they can make a buck off of doing so. Instead, companies need to be transparent about the data they take and what they are doing with it, and get consent from their customers before monetizing their personal information."
IBT tried to reach Bose for comment, but the company had not replied at the time of publishing.
© Copyright IBTimes 2023. All rights reserved.
FOLLOW MORE IBT NEWS ON THE BELOW CHANNELS