Brands Like Coca-Cola And Nestea Are Putting Their 'Audio Logos' In Your Favorite Pop Songs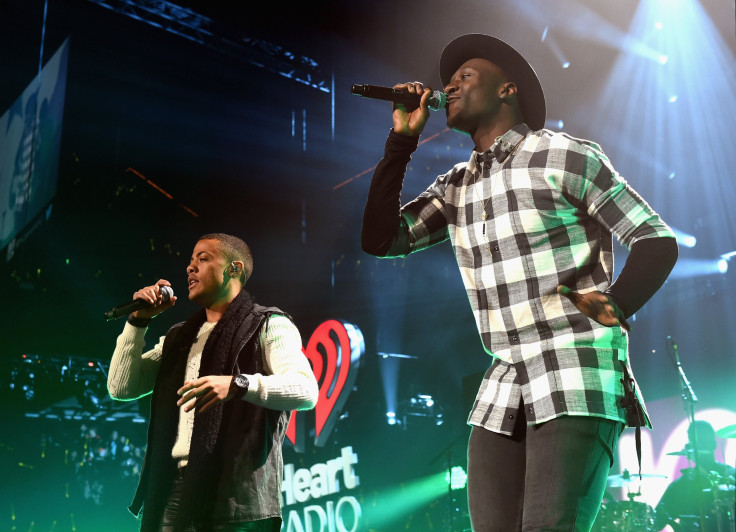 If you were in Europe this summer and you happened to hear a song that sounded weirdly familiar, or maybe made you hankered for a glass of iced tea, you were not imagining things. That song, "Fresh Idea" by the songwriting duo Nico & Vinz, was paid for by Nestea, and it contains a four-note melody created by the iced tea brand -- the same melody that Nestea works into all of its advertisements and which it considers part of its overall brand identity.
"Fresh Idea" is part of a growing trend of marketers working with bands and musical artists not simply by using their songs in commercials or sponsoring their tours, but by inserting a brand's "audio logo" directly into pop songs. An audio logo is usually a four- or five-note melody found in a brand's commercials. Companies have used them for decades (think of NBC's three-note chimes as one of the most famous examples), but with the music industry struggling to find novel ways to make money in the digital age, audio logos could potentially open a rich new vein of revenue for artists who don't mind a little quid pro quo.
"For the brand, it's much better than a TV commercial," said Umut Ozaydinli, the founder of Deviant Ventures, the agency that midwifed "Fresh Idea." "Nothing gets even close to what you can do with music."
It has certainly been a good investment for Nestea. Since its release in July, the song has piled up more than 7 million views on YouTube, dozens of multiples more than any other piece of content Nestea has put online and good enough to prompt Nico & Vinz's managers to consider releasing the song in the United States, even though Nestea only needed "Fresh Idea" for a European campaign.
Nico & Vinz are not quite a household name, but they're not what you'd call obscure, either. Their 2014 hit "Am I Wrong" went double platinum in the U.S. and peaked at No. 4 on the charts here; it also reached the top of the charts in Canada, the U.K. and New Zealand.
A New Kind of Band-Brand Partnership
They are not the first acts to do this, and they will not be the last. But how did we get from artists making fun of brands, commercialism and capitalism to other artists happily inserting brand elements directly into the DNA of their music?
It required two separate developments. The first happened on the corporate side, where executives started warming to the idea that a brand's identity could have a musical dimension. It took root first in Europe, where a handful of agencies began convincing companies they should be thinking about what their brands sounded like, too.
"When I first introduced the idea of branding with sound identity, it was not unusual that people would laugh at me," said Michaël Boumendil, founder of the audio branding agency Sixième Son.
This month, Sixième Son, which counts automaker Peugeot, railway giant SNCF and the French Open among its clients, is celebrating its 20th anniversary, and nearly half of his clients are B2B, or non-consumer-facing companies. According to Man Made Music founder Joel Beckerman, half of the world's most valuable brands have sonic strategies.
What also happened was the collapse of the record business. Thanks to the rise of file-sharing and a gradual migration away from owning physical copies of recordings, the record business experienced a massive contraction around the world, shrinking more than 41 percent from its 20th-century peak.
That massive downsizing left artists and their managers scrambling, not just for a replacement of that lost income but for partners that could help with the costly process of promoting would-be hit singles and records.
"These days, the record companies' fists are always clenched," said Julius "J" Erving III, an artist manager who handles Nico & Vinz for the Atom Factory. "So we need to find other sources of money."
Marketers welcomed them. After decades of being kept at arm's length from pop music's biggest stars and songs, advertising agencies and brands suddenly found those same celebs happy to accept food, drink, synchronization opportunities, even places to stay while they were on the road. The exact amount artists collect from endorsements isn't tallied, but the amount earned from synchronization deals -- which put songs into commercials, films and television -- is. And it's growing: Global sync revenues totaled $350 million in 2014, according to the International Federation of the Phonographic Industry.
Today, Erving said, securing a brand partner that will help push a new artist or a new release isn't just a nice add-on. "It's a necessity," Erving said.
The Sound Of Coke
But getting the equivalent of a brand's logo into a song's melody took a little bit longer. In 2007, Chris Brown and a team of songwriters came up with "Forever" as part of a campaign for Doublemint gum. Two years later, Cee-Lo Green, Janelle Monae and Patrick Stump worked on "Open Happiness," a song composed for a Coca-Cola advertising campaign of the same name.
The following year, Umut Ozaydinli helmed arguably the most successful version of this practice with "Wavin' Flag." The song, originally released in 2009 by the Somali-Canadian rapper K'Naan, was an expression of support for Somali freedom. Ozaydinli, at the time working for Coca-Cola as its head of music, decided to create a remix of the song that included Coke's audio logo, a five-note melody that can be heard in every single Coke advertisement broadcast around the world.
Coke put "Wavin' Flag" at the heart of its World Cup marketing that year, and the song became an international smash, shooting to the top of the charts in 17 countries. "When there is a song on the airwaves, it adds a much bigger aura around the campaign," Ozaydinli said.
It also tickled everyone at Coke. "When you get half a million people chanting your brand ID," Ozaydinli said, "that's dope."
Dope or not, the benefits for a brand are a lot murkier than the ones for an artist. "You have to pick your battles on what we call KPIs," Ozaydinli said, referring to key performance indicators, a business term that refers to the metric used to evaluate the effectiveness of a campaign or advertisement.
"It makes your commercial more likable," he said. "It adds more engagement."
For artists, the upside is a lot clearer. In addition to being paid for the song, the brand typically foots the bill for production as well as marketing costs, like the music video Nico & Vinz shot on location in Hawaii for "Fresh Idea." In K'Naan's case, he found himself at the heart of a worldwide tour that got him in front of audiences in more than 30 countries.
A Hot New Import?
For now, this strategy appears to be favored by marketers abroad. Aside from Chris Brown's "Forever," few brands or artists have chanced releasing a song seeded with a brand ID already out in the United States.
"Internationally, they're more inclined to produce this kind of stuff," Erving said.
But, he added, there are enough moments on the American media calendar that could make putting a song out as part of a campaign worthwhile. "There are some really huge opportunities," he said, listing events like the Super Bowl or the NBA Finals as possible targets.
As for why a brand would want to do it? "I think any brand that wants to make people feel something, music is an easy way to do it," Ozaydinli said.
Correction: An earlier version of this story incorrectly stated that Charlie Puth and Conrad Sewell were working on original compositions. They worked on a different musical campaign with Deviant Ventures.
© Copyright IBTimes 2022. All rights reserved.
FOLLOW MORE IBT NEWS ON THE BELOW CHANNELS