Brother, Can You Spare 11 Million Euros? Nicolas Sarkozy's Return To French Politics Imperiled By UMP's Near-Bankruptcy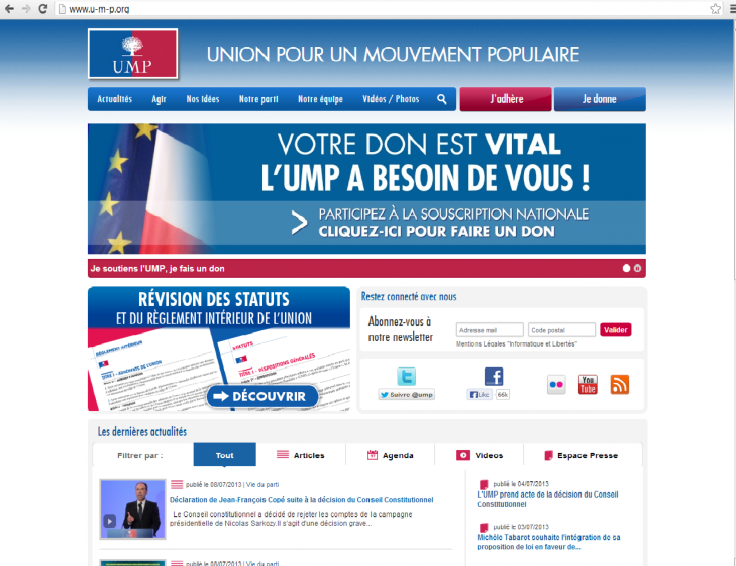 Nicolas Sarkozy's apparent (and highly anticipated) return to French politics may be curtailed by something as mundane as debt and cash flow. According to various reports in French media, Sarkozy's party, the center-right Union for a Popular Movement (UMP), is on the verge of bankruptcy.
The top court in the country, the Constitutional Council, declared last week that the ex-president, who lost his 2012 bid for re-election to Socialist candidate Francois Hollande, exceeded legal spending limits during that campaign and that his party is disqualified from receiving a reimbursement of 11 million euros ($14.2 million) in state subsidies. Specifically, the Constitutional Council said Sarkozy's campaign spent 22,872,615 euros, exceeding authorized spending limits by 2.1 percent (or 466,118 euros).
Under French election financing laws, political parties are eligible for a reimbursement of 47.5 percent of total campaign expenditures as long as they abide by spending limits. Now, as the main opposition party, the UMP, has a huge financial hole that will be difficult, if not impossible, to fill.
In response to the court's decision, Sarkozy quit his membership in France's highest constitutional authority. "Respecting institutions does not mean accepting all of their decisions. ... The council's decision creates a serious and unprecedented situation. The question is not that of the UMP, but of pluralism," the former president angrily declared on his Twitter account. (Sarkozy's resignation from the court is somewhat problematic -- as a former president of the republic, he was automatically granted a seat in this French institution and in theory cannot resign).
Meanwhile, French media also noted that since the UMP lost many seats in Parliament last year to Socialist and Green Party candidates, it received 13 million euros less in state funding in 2012 than in the prior year. But this is only the tip of the iceberg – in 2011, the year before the catastrophic national elections, the UMP was 44 million euros in debt. Earlier this year, the party reportedly took out a loan of some 55 million euros, even putting its headquarters up as collateral, promising to repay within a few years. "With the loss 11 million euros that we were counting on getting back, we will have to renegotiate the repayments with the banks for after 2017," an unnamed UMP source told France's Europe1 radio.
In effect, the UMP is nearly bankrupt as it faces an uphill battle to regain public support ahead of next year's parliamentary election. "It's important to realize how serious [the court's ruling] is for the UMP. … It's going to need a second bailout plan, just like Greece," Thomas Guénolé, a professor of politics at Sciences Po university, told France24.
Jean-François Copé, the current president of UMP, has already commenced a public appeal to supporters to raise funds to keep the party afloat – a measure some in the media have dubbed "Sarko-thon." "I have started to hear people raise the possibility that, financially strangled, the UMP will not be able to express its ideas for the benefit of [the] French people," Copé told reporters. "[And] that it will not be able to denounce the politics of the left, which now holds all the power [in government]."
Sarkozy also appealed to the public for donations to save the party on his Facebook account, citing that the Constitutional Council's decision has placed the UMP "in peril." "This is an unprecedented situation in the Fifth Republic. It puts the political group, that must prepare the real and necessary alternative to socialism, in peril," Sarkozy wrote on his page. "This is not just about the UMP. This concerns anyone who is committed to pluralism. I must assume my responsibilities in committing myself to guaranteeing free expression of democracy in our country. I ask you to mobilize to help me to achieve this end."
Sarkozy also attended urgent party meetings on Monday to discuss the financial crisis, but cryptically denied that he is seeking to take over the reins of the battered UMP. "This is not my political comeback. When I retake the floor it will be to speak to the French about France," Sarkozy wrote on his Twitter account. "It will not be to speak of me, nor to speak of us. It will be to speak of them [UMP]."
The UMP has other problems as well – namely a bitter conflict for party leadership between Cope and former prime minister Francois Fillon. However, at least one prominent French political observer believes the UMP can weather this financial storm. It "could use this [crisis] to win the support of a public who believe the party has been victimized," writer Jean-Baptiste Marteau, who has co-authored two books on the UMP, told the Local newspaper. "Copé's national subscription has already proved successful and the public could really get behind the UMP and turn this from a negative into a positive."
Indeed, in four days, the party has already collected around 2.3 million euros, which represents an average of 80 euros per donor. The UMP is now reportedly considering asking top party officials, including its senators, to fork over at least 2,000 euros apiece to save the party.
Assuming the UMP can clean its financial house, Sarkozy faces a number of other headaches, including charges that his 2007 campaign was partly financed by former Libyan dictator Moammar Gadhafi, as well as allegations that he received illegal campaign contributions from France's wealthiest woman, L'Oreal heiress Liliane Bettencourt. He has denied all charges. "The day I will come back, I will tell you," he said.
© Copyright IBTimes 2023. All rights reserved.
FOLLOW MORE IBT NEWS ON THE BELOW CHANNELS