BTS' Suga Makes Surprise Appearance At Psy's Concert; Fans React [Video]
Suga's surprise appearance at Psy's Seoul concert has thrilled fans who have been waiting to watch him live after his absence at J-Hope's listening party last week.
The event, which was held at the Jamsil Olympic Stadium on Saturday, was part of Psy's concert tour, "Splash Show – 2022 Summer Swag."
Suga appeared at the beginning of his collaborative track with Psy, "That That," much to the delight of the fans. The 29-year-old rapper, who is known offstage as Min Yoongi, took the stage in a white top with a beige overlay and ripped jeans that perfectly complemented the summer-themed show.
A fan shared a video of Suga performing the track and wrote, "Yoongi performing 'That That' live with Psy."
Aside from being the featured rapper in "That That," Suga is also the track's producer and arranger. The song grabbed top spots in local charts and quickly gained over a hundred million views on YouTube upon its release in April.
Last week, Suga took to fan-artist community app Weverse to explain why he was absent at bandmate J-Hope's "Jack in the Box" listening party.
"I suddenly had a fever since yesterday morning so with the thought that it might be covid, I was getting tested and was unable to attend," the "Butter" singer said. "I'm disappointed too. Thankfully I'm back to a normal temperature, so don't worry too much. Congrats jhope."
Apart from BTS' teammates Jimin, RM, Jin, Jungkook and V, J-Hope's listening party was attended by several big names from the K-pop industry, including rapper Tiger JK, Bigbang's Taeyang, singer BIBI and rapper Jessi. The topic "Where is Yoongi" trended on Twitter for some time on Twitter as fans were upset with Suga's absence at the event.
J-Hope later explained that Suga had planned to attend the party but could not because of fever.
"That That...we like that and we love you, Yoongi," a fan wrote along with a video of Suga dancing to "That That."
Another fan caught Suga's mic drop at the end of the performance and said, "Yoongi ends his #ThatThat performance with Mic Drop. Yoongi is also out of the box AND no way of stopping him. This solo break sure amped up the boldness and CONFIDENCE in all 7. The best 'has come and is staying.'"
In May, Psy revealed that when Suga first proposed to produce the track, he readily accepted it as Suga was a "great performer" and a good songwriter.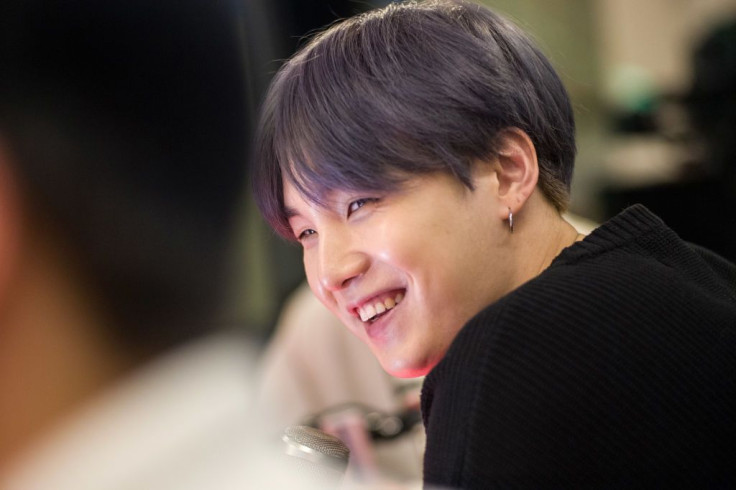 © Copyright IBTimes 2023. All rights reserved.