BTS To Take 'Extended Break' Before New Concert In 2022
After making history as the first artist to have four sold-out concerts at SoFi stadium in Los Angeles, global sensation BTS has announced its second extended break before the group returns to stage for a new concert next year. The boy band took its first temporary break in 2019.
The Korean superstars' label Big Hit Entertainment announced the news in a statement Monday shared by Soompi in a report. Big Hit Entertainment asked fans to help maintain the group members' privacy as they spend their time with their families during the holiday season. The label said the septet will soon return to prepare for a new album that will mark the beginning of a "new chapter."
The statement also emphasized that this is only the second time that the Bangtan Boys will have a proper Christmas break since they debuted in 2013.
"This period of rest will provide the members of BTS who have tirelessly committed themselves to their activities, a chance to get re-inspired and recharge with creative energy. It will also be the first time for them since their debut to spend the holiday season with their families," the statement read.
"BTS will be focusing on preparing for the concert and release of the new album that will mark the beginning of a "new chapter. They are preparing for a concert this coming March to connect and communicate with the fans in-person in Seoul," Big Hit Entertainment said.
BTS went on its first official vacation break in August 2019 following a successful performance at the Lotte Duty Free Family Concert.
The group members, consisting of RM, J-Hope, Jin, V, Jimin, Suga and Jungkook, recently capped their hugely successful four-day concerts at SoFi stadium. Megan Thee Stallion made a surprise appearance on the second day of the concert and performed the remix version of "Butter" with BTS.
Coldplay also appeared in the concert and performed their massive hit, "My Universe," which was one of the highlights of the last day of the "BTS Permission To Dance - L.A." concert.
Twitter user @Serapjm shared a snippet of the performance which shows Coldplay frontman Chris Martin jamming with BTS.
"This was a complete surprise omg !!! My Universe," the fan captioned her tweet.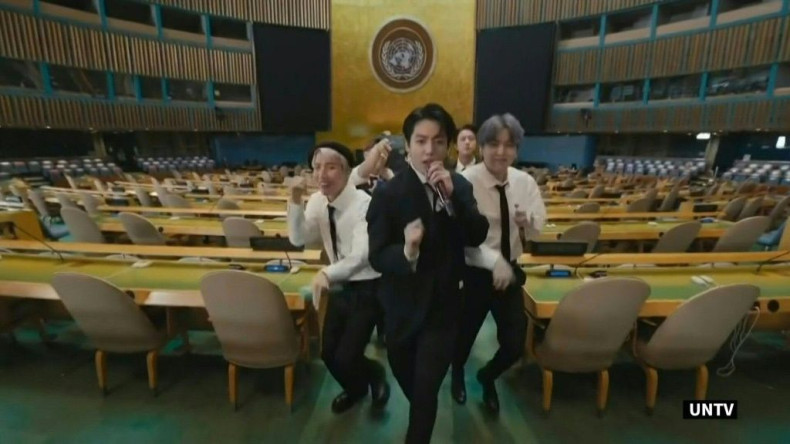 © Copyright IBTimes 2022. All rights reserved.