Burton-Taylor Romance Puts Sparkle in Diamonds Auction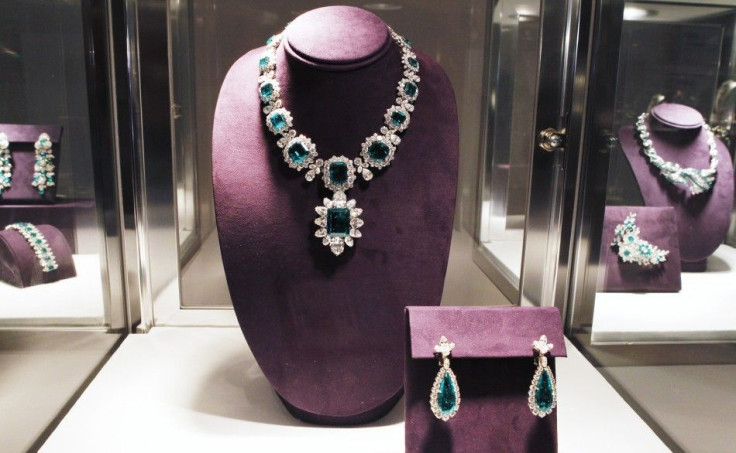 Diamonds may be a girl's best friend, but for Hollywood icon Elizabeth Taylor they were a lifelong passion that could now strike gold for the AIDS sufferers she championed.
Rubies, sapphires, emeralds and pearls -- many of them given to Taylor by her two-time husband Richard Burton during their stormy romance -- are among the 269 jewels up for auction in December following the death in March of the legendary film actress.
Some of the most jaw-dropping gems are now on an international tour ahead of the sale that auctioneer Christie's expects to bring in more than $30 million.
Another $20 million could be raised from some of Taylor's iconic gowns and film memorabilia. A portion of the proceeds from exhibitions, events and publications related to the auction will go to the Elizabeth Taylor AIDS Foundation that was started in 1991.
But what Christie's experts call the Liz factor -- the lore surrounding her glamorous Hollywood lifestyle -- could blow those pre-sale estimates sky high.
This collection is unlike anything we have offered before. It is a window on Elizabeth Taylor's life, Christie's America chairman Marc Porter told reporters on Monday ahead of the four-day Los Angeles public exhibit.
Taylor's career spanned seven decades and included films such as National Velvet, in which she starred as a teenager, as well as Giant and Who's Afraid of Virginia Woolf? which earned her an Academy Award for best actress.
In her personal life, Taylor's eight marriages, health problems and early advocacy for AIDS patients made her a larger than life figure and the epitome of Hollywood glamour.
The jewelry auction was a decision Elizabeth Taylor herself made a few years ago. She wanted someone new to enjoy them, Porter said.
PEARLS AND TIARAS
The famous 33.19 carat white diamond ring that Burton bought for Taylor in 1968, and which she wore almost every day, is just one of the highlights of the sale and the public exhibition. It is estimated to fetch $2.5 million to $3.5 million, based largely on the value of the stones alone.
Less famous but equally dazzling is a 16th century pearl that Taylor helped design as the centerpiece of a ruby and diamond necklace. The pearl was a 1969 gift from the charismatic Welsh actor and the necklace is valued at $2 million to $3 million.
Then there is the emerald and diamond necklace, pendant, ring and bracelet that Burton bought for Taylor starting in 1962 in Rome when their romance blossomed on the set of Cleopatra.
But Burton wasn't the only lover to shower Taylor with jewels. An antique diamond tiara from film producer husband Mike Todd that Taylor wore to the Oscars in 1957 is valued at $60,000-$80,000, while a diamond wristwatch that the late pop star and close friend Michael Jackson gave Taylor as a gift is expected to fetch $300,000-$500,000.
What the Liz factor will do to prices, we will see, said Christie's executive Brett Sherlock.
Christie's experts said Taylor wasn't just a collector of jewelry but had a keen sense of design, picking her pieces with care from the world's most legendary makers, including Bulgari, Cartier, Tiffany and Van Cleef & Arpels.
She was born with a great eye for jewelry, said Rahul Kadakia, head of jewelry at Christie's America. This is the greatest jewelry collection that Christie's has ever presented.
Taylor, 79, died of congestive heart failure in Los Angeles in March. After Los Angeles, the public exhibit will visit Dubai, Geneva, Paris, Hong Kong and New York ahead of the four day auction in New York from December 13-16.
© Copyright Thomson Reuters 2023. All rights reserved.