California Mudslide Update: Dozens Dead, Injured In Montecito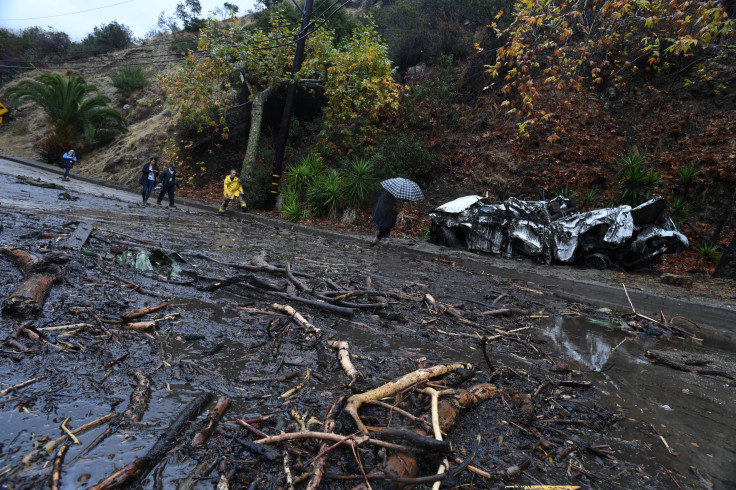 After the Thomas fire, now it is the flood and mudslide that has swept across Southern California, leaving 16 people dead and many injured, Tuesday.
A powerful overnight storm with heavy downpour led to chaos in the Montecito neighborhood. At least 24 people were hospitalized out of which 20 had "storm related injuries" while four others were critically injured, reported the BBC.
Calling it "a very somber day," Bill Brown, the Santa Barbara County Sheriff said, "while we hope it will not, we expect that this number will increase as we continue to look for people who are still missing and unaccounted for." He also informed that at least two dozen people were still missing and that 911 dispatchers received 600 calls for assistance in 3 hours.
Talking about the heavy mudslide, Brown told NBC: "The only words I can really think of to describe what it looked like was it looked like a World War I battlefield. It was literally a carpet of mud and debris everywhere, with huge boulders, rocks, downed trees, power lines, wrecked cars."
According to a report in the Los Angeles Times, Mike Eliason, the spokesman from Santa Barbara County Fire Department explained that heavy rains and storm left the south-facing slopes above Montecito completely devastated which led to a mudslide where huge boulders rolled down into residential areas.
Eliason told the LA Times over a telephone conversation, "it's going to be worse than anyone imagined for our area. Following our fire, this is the worst-case scenario." He further explained that the deaths were caused after heavy rain struck around 2:30 a.m. EST, which in turn led to "waist-high" flooding and mudslides.
Because of the bad weather, a gas line in one of the neighborhoods was ruptured and led to structure fires. At least 50 people were rescued by helicopter and many more were rescued by the team on the ground.
According to a report from the NBC-affiliated television station, KSBY, approximately 500 firefighters are involved in the rescue operation.
According to the report in the BBC, "multiple airships to support rescue operations" were sent by the U.S. Coast Guard. They have also warned people not to fly drones as this would force flights to be grounded. Monday marked the second time within a span of two months that residents in California were asked to evacuate.
The National Weather Service told the publication: "Recent burn areas will be especially vulnerable where dangerous mud and debris flows are possible."
The Federal Emergency Management Agency warned that homes in California that had never been flooded before were also at risk now. There could be between 4 inches to 7 inches rain in the foothills and 9 inches in some areas, reported the BBC.
© Copyright IBTimes 2023. All rights reserved.