California Wildfire Update: Helicopter Pilot Fighting Blaze Dies In Crash, Ignites Additional Brush Fire
KEY POINTS
The crash took place when the helicopter was battling a wildfire in Fresno County
The blaze in the county had grown to 1,500 acres and was 35% contained as of Wednesday
Total of 124,100 acres have been burned in Sonoma, Napa and Lake counties combined
A helicopter pilot died in a crash while battling the California wildfires Wednesday, unintentionally setting off another fire in the already blazing state.
A brush fire was ignited after a helicopter crashed in Fresno County, killing the unidentified pilot. In a statement, Daniel Berlant, Cal Fire Assistant Deputy Director, said: "The Bell UH-1 helicopter was on a water-dropping mission on the Hills Fire, approximately 9 miles south of the City of Coalinga. Air and ground resources responded immediately to the crash site."
Federal Aviation Administration (FAA) spokesman Ian Gregor told the Fresno Bee the helicopter crash caused a new brush fire. The crash will be investigated by the FAA and National Transportation Safety Board (NTSB).
As of Wednesday evening, multiple fires have been burning in the area since Saturday, growing to 1,500 acres and only 35% contained.
"The fire is burning in areas with difficult access. Containment efforts are being hampered due to extreme temperatures, steep terrain, and limited access," Cal Fire said in the latest update.
In a press conference Wednesday, Gov. Gavin Newsom said over 360 fires were burning in the state with 23 of them considered major. Blaming "extraordinary weather" and "all of these lightning strikes" for the fires, the governor said that the state recorded close to 11,000 lightning strikes in 72 hours.
"There's no question…the total number of fires last year was substantially lower than the activity we're experiencing this year," he said in the press conference.
"California and its federal and local partners are working in lockstep to meet the challenge and remain vigilant in the face of continued dangerous weather conditions," Newsom added.
Meanwhile, Cal Fire said Wednesday that a total of 124,100 acres have been burned in Sonoma, Napa and Lake counties combined with no containment. The fires were sparked by lightning. Several people were ordered to evacuate their homes as the fires were rapidly moving.
Pleading residents to pay attention to the evacuation orders, Sonoma County Sheriff Mark Essick said in a press conference, "I want to acknowledge that this is an incredibly stressful and emotional time for many of us who have endured many fires and natural disasters over the last couple of years. We realize this is a trigger point for many of you in the public and we ask that you please go to your plan … be ready, follow the plan when it comes time evacuate. If you are in fear of your life, be ready to go and make that decision to go."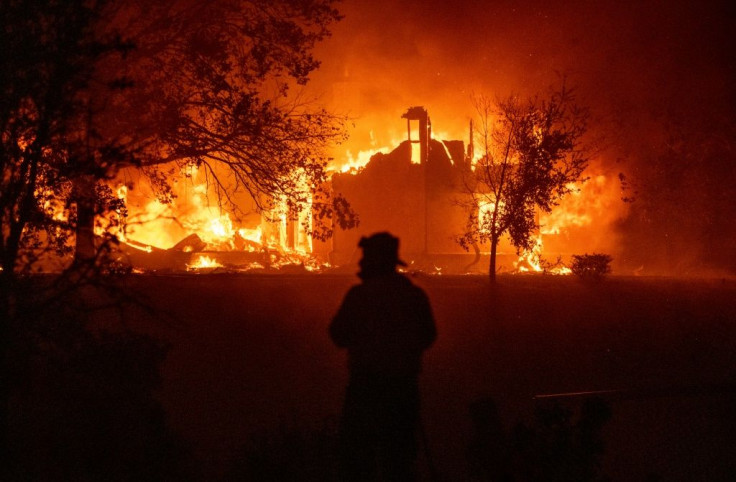 © Copyright IBTimes 2023. All rights reserved.