'Call Of Duty: Black Ops 2' Release Date: New Leaked Screenshot Shows Kill Streak Load Outs And Art Direction [PHOTO]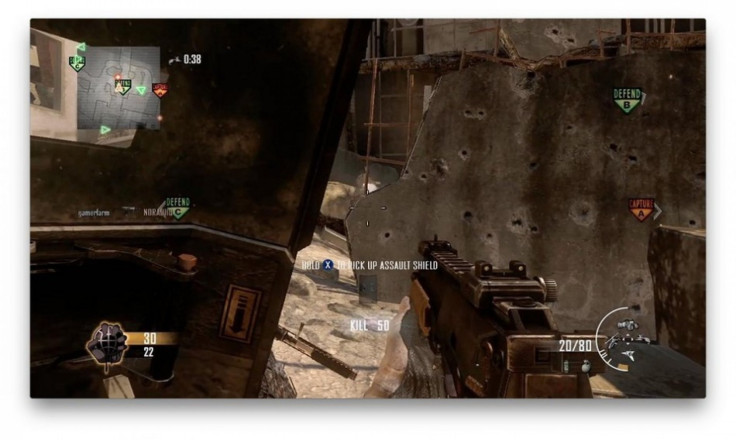 Fans of the Call of Duty franchise have had some surprises this month. First, a leaked image surfaced in a Call of Duty fan forum. Then, on April 18, a retailer forwarded what could possibly be the game's official poster to Kotaku. And now, players have a leaked screenshot to ponder.
The screenshot came a day after the poster made its way to the Internet, Examiner.com reported. The shot doesn't reveal too much, but it does show what the display will look like in the coming Black Ops sequel. It also reveals information about the killstreak loadouts and overall art direction of the next installment in the Call of Duty series.
With an unveiling and a release date yet to be confirmed, there's no telling whether or not this image is credible. However, it does give gamers something to think about as they wait for the next release.
If you had to ask me, though, I think the blurry pixels around the text and the photo copied MP7 from 'Modern Warfare 3' is a good indication of its legitimacy, Examiner.com's Nicholas Gigante wrote.
Fans may see an unveiling in the next couple of weeks, as the leaked poster revealed a date of May 2. The caption under the poster read, Return for debriefing, with a dark silhouette of a man holding a gun as the backdrop. This basically confirms that the next Call of Duty game will be a Black Ops follow-up, since the plot of the previous game centered on a debriefing in which details of a massive conspiracy were revealed.
In February, a French video-game news site was temporarily banned from Activison events after reporting that a Black Ops 2 sequel would launch this year. And the reaction of the publisher leads many to believe that this information was correct.
© Copyright IBTimes 2023. All rights reserved.