'Call Of Duty: WWII' Zombies Teaser Site Discovered With Co-OP Hints & Secret Code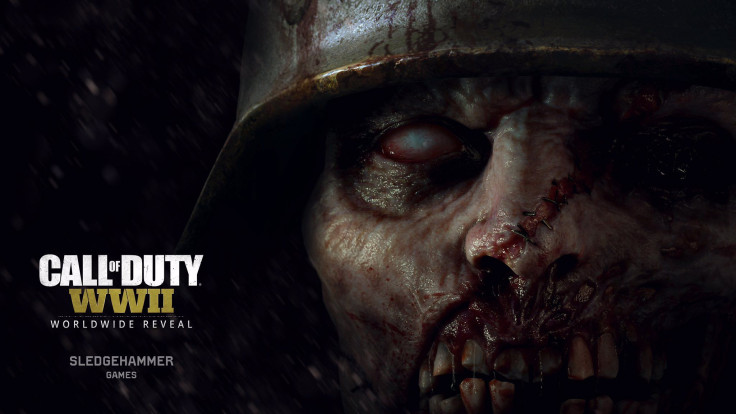 Call Of Duty: WWII was revealed publicly earlier this week, but it appears the development team at Sledgehammer Games shared a few additional secrets during the proceedings. A Zombies teaser site has been discovered, and it's linked to a secret code.
In our recent list of six major Call Of Duty reveals you missed, we mentioned secret lettering buried inside the helmet of the pictured Zombie in the event's initial teaser. It appears the purpose of those markings has been discovered.
Read: Call Of Duty: WWII Digital & Pro Editions Revealed
During Wednesday's stream, we saw several fan tweets expressing excitement over the game. What are those letters in brackets there for, though? Apparently, if you piece them together, you get "CAL LOF DUT Y.C IED." — shorthand for http://callofduty.com/classified. Heading to that URL today redirects to the WWII teaser site.
When you get there you'll be asked to enter groups of letters using a keypad. For the purposes of this particular tease, enter "IUFDJ BHLOP JMUBA." Doing so reveals the images below. One is a portrait of a young man named Rafael, the other appears to have some sort of Latin religious meaning. Both graphics have the word "zombies" in their metadata.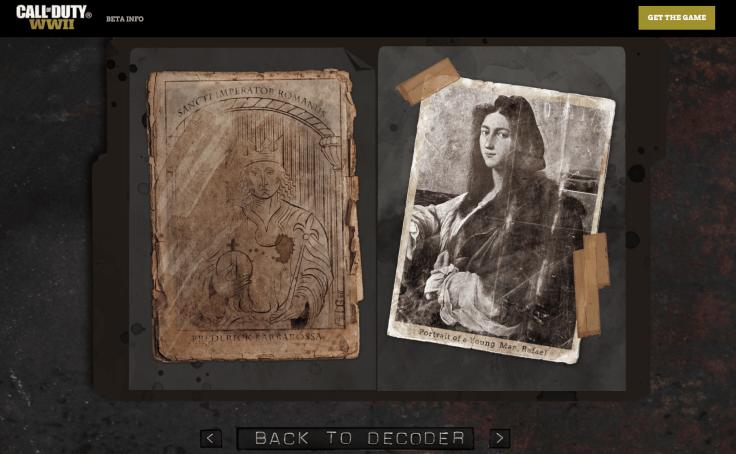 However, the contents hidden behind the password aren't the only details worth knowing. Just below the keypad are a series of blurred-out coordinates that link to Dunkirk when fully mapped. Brief folder animations also mention Barbosa. Both names have major significance in the scope of World War II. Dunkirk was the site of a massive clash between Axis and Allied forces that ended in the rescue of 330,000 Allied troops. The German decision to halt an advance on Dunkirk is widely debated as a potential military blunder.
Operation Barbarossa also was not one of Hitler's finest moments. In 1941 the Nazis made the regrettable decision to invade the Soviet Union. Having not prepared well enough for the Russian winter, the Germans were progressively pushed back.
Those events potentially could tell us a lot about the jumping off point for WWII Zombies. In the fictitious timeline, such catastrophic losses might be the primary reason behind the experimentation that ultimately spawns a zombie virus. Maybe with a little help from the occult, Hitler and his cohorts turn to zombie forces to make one last stand.
While the pictures above only relate to a single code, there will likely be more to share in the days and months to come. Especially during E3 in June, gamers should be analyzing screenshots closely for another hint.
Call Of Duty: WWII releases on PS4, Xbox One and PC Nov. 3.
What do you think of this Zombies teaser site? Do you have any theories as to what the pictures might mean for Call Of Duty: WWII? Tell us in the comments section!
© Copyright IBTimes 2023. All rights reserved.