'Call Of Duty: WWII' Trailer, 2017 Release Date Multiplayer & Beta Details Revealed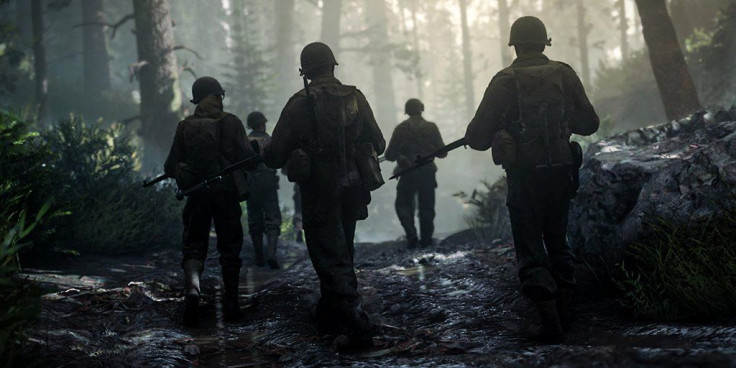 Call Of Duty: WII has finally been revealed, and we have a release date and trailer to prove it. Sledgehammer's 2017 game will release on Nov. 3, and you'll be able to participate in an exclusive beta later this year that will be playable first on PS4.
Having just seen the trailer, we don't have much in the way of analysis. That being said, fans are getting exactly the kind of content they want to see. Sledgehammer aims to deliver a "gripping, immersive story with a dark irreverent tone" alongside boots-on-the-ground multiplayer that brings the series back to its roots. Above all, the goal is to provide "the most realistic experience possible." That means featuring classic weapons like M1 Garand, StG 44 and the M1903.
With regard to campaign, we've got Bosch's Jeffrey Pierce and Transformers Josh Duhamel. Players take on the role of Private Red Daniels, who hasn't seen much action. He'll be joined by his best friends through a campaign that spans 1944 - 45 set entirely in the European theater. The squad will also be joined by key players in the international narrative too. There will be a co-op Zombies mode as well, that offers a unique take on the the occult of the Third Reich.
Read: Call Of Duty: WWII Release Date & Beta Details Leak Before Reveal
Multiplayer will be discussed in greater detail at E3 in June, but there were teases of a new objective-based PvP mode called War, Divisions that affect online progression and a new social space feature called Headquarters.
Call Of Duty: WWII releases Nov. 3 for PS4, Xbox One and PC.
What did you think of the Call Of Duty WWII reveal? Is the trailer and release date to your liking? Tell us in the comments section!
© Copyright IBTimes 2023. All rights reserved.
FOLLOW MORE IBT NEWS ON THE BELOW CHANNELS