Cameron, Rouhani Meet In Historic Reunion Between Britain, Iran During UN Debates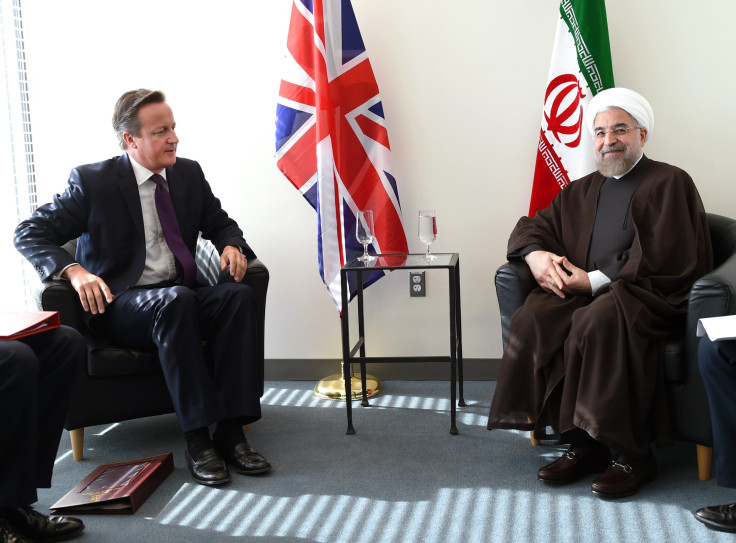 U.K. Prime Minister David Cameron sat down with Iranian President Hassan Rouhani Wednesday in the first meeting between leaders of the two countries since Iran's Islamic Revolution in 1979. The historic reunion came as both leaders attended United Nations meetings in New York and amid the latest round of nuclear weapons negotiations between Iran and Western leaders, including Britain.
Cameron and Rouhani were expected to discuss what role Iran could play in helping Western leaders defeat Islamic State group militants that have been terrorizing civilians in Syria and Iraq for more than a year. Cameron was also likely to discuss Rouhani's support for the Bashar Assad regime in Syria. Shortly after the meeting began, Rouhani tweeted a photograph with a message urging "constructive engagement."
Rouhani has vowed to squash the militants also known as ISIS and ISIL in Iraq but was critical Tuesday of the recent airstrike campaign by the U.S. and Arab allies against the Islamic State group in Syria.
"If they want to use planes and if they want to use unmanned planes so that nobody is injured from the Americans, is it really possible to fight terrorism without any hardship, without any sacrifice? Is it possible to reach a big goal without that? In all regional and international issues, the victorious one is the one who is ready to do sacrifice," Rouhani said.
Britain's relationship with Iran has been particularly strained since a mob attacked the British embassy and a British residential compound in Tehran in 2011, tearing down the U.K. flag and Queen Elizabeth II's picture. The U.K. responded by expelling Iranian diplomats in London and closing its embassy in Tehran.
Since Rouhani's election last year, Cameron has sought discussions on "a series of issues that need to be addressed," according to Bloomberg.
© Copyright IBTimes 2023. All rights reserved.