Can The Government Seize Property? Jeff Sessions' Latest Decision Draws Republican And Democrat Criticism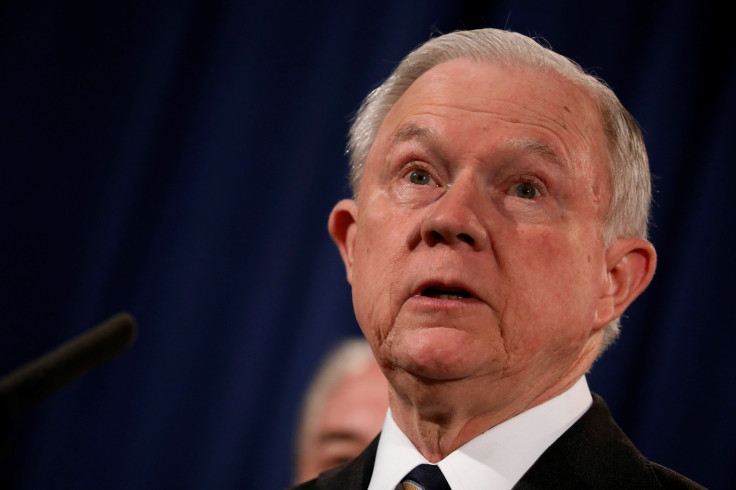 Attorney General Jeff Sessions reinstated an asset forfeiture policy at the Department of Justice on Wednesday, allowing police to seize property, cars and money from suspects of crimes. Police can take those assets and use them to purchase equipment for themselves. To have assets seized, a person neither needs to be indicted for a crime nor do the police have to necessarily provide evidence a crime has been committed, rather the only threshold is probable cause.
Almost half of all states have passed regulations limiting asset forfeiture, but the new policy allows local authorities to circumvent those rules if they hand the assets off to the federal government, according to CBS News. Passing the seized assets to federal authorities is called adoptive forfeiture.
READ: Attorney General Jeff Sessions Gives Closed-Door Speech To Anti-Gay Group
"This is not about taking assets from innocent people," said Deputy Attorney General Rod Rosenstein in a press conference Wednesday. "It's about taking assets that are the proceeds of, or the tools of, criminal activity, and primarily drug dealing."
The practice dating back to the 1980s was curbed under former attorney general Eric Holder in 2015.
The Justice Department has added new safeguards in an attempt to prevent abuse of the program. Federal prosecutors must sign off on seizures that are under $10,000, local police must provide additional details justifying probable cause for seizures, and there will be new mandated training for law enforcement.
The policy has garnered criticism given that it had affected innocent people in the past.
"There's bipartisan consensus in states all over the country that forfeiture has gone too far and needs to be constrained," said Illinois American Civil Liberties Union lawyer Ben Ruddell to the New York Times Wednesday. "Now you have the attorney general of the United States saying, 'We have to double down and do more of this.' He's completely swimming against the tide of current thinking."
Republicans have also raised concerns about the move.
READ: Jeff Sessions Could Be Testifying In Joe Arpaio's Immigration Case, Too
"This is a troubling decision for the due process protections afforded to us under the Fourth Amendment as well as the growing consensus we've seen nationwide on this issue," said Rep. Darrell Issa, a Republican from California, in a statement. "Ramping up adoptive forfeitures would circumvent much of the progress state legislatures have made to curb forfeiture abuse. Criminals shouldn't be able to keep the proceeds of their crime but innocent Americans shouldn't lose their right to due process, or their private property rights, in order to make that happen."
Roughly $1 billion in assets was seized through adoption in the last decade.
© Copyright IBTimes 2023. All rights reserved.