Jeff Sessions Could Be Testifying In Joe Arpaio's Immigration Case, Too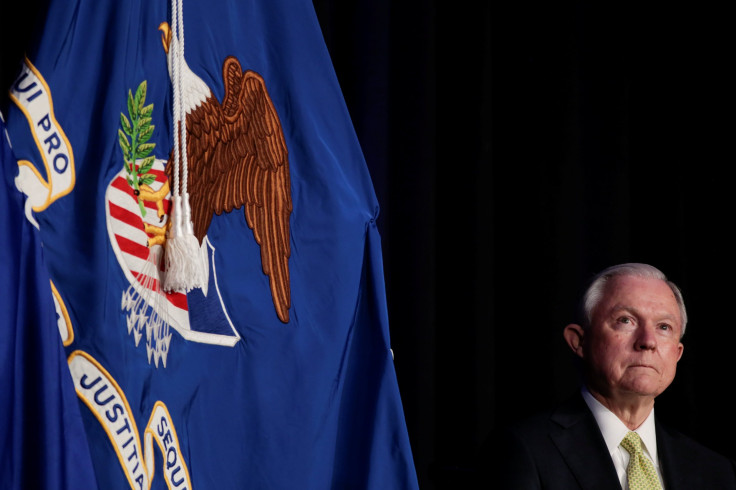 Attorney General Jeff Sessions told Congress on Saturday that he would appear before the Senate Intelligence Committee to testify about possible Russian meddling in the 2016 presidential election. Sessions is scheduled to appear before the committee on Tuesday.
Sessions recused himself from the Russia investigation over a possible conflict of interest because he felt he was a surrogate for President Donald Trump's campaign. He also failed to disclose during his confirmation hearing that he had met with Russian officials, the Washington Post reported.
READ: Why Do Democrats Want Jeff Sessions To Testify In Public About Trump's Alleged Links With Russia?
It isn't yet known whether the hearing will be public or private, the Associated Press reported. Democrats are urging that the meeting happens in the open, hoping for the same kind of electricity that surrounded last week's testimony of recently fired FBI Director James Comey. The investigation into Russian involvement in the election was further complicated when Comey alleged that the president asked him for loyalty and possibly pressured him into stopping an investigation into ties between Trump's former national security advisor Mike Flynn and Russia.
Adding another wrinkle, Trump tweeted about the possibility of there being a taped recording of his private meeting of Comey. The president was asked about the tape at a press conference on Friday and he demurred, saying "I'll tell you about that maybe sometime in the very near future."
The tape issue has frustrated some Republicans.
"I don't understand why the president just doesn't clear this matter up once and for all," said Republican Maine Sen. Susan Collins on CNN.
Sessions could have another awkward testimony this month, this time for a case brought against former Arizona sheriff Joe Arpaio. Arpaio is being tried for criminal contempt of court for disobeying a federal judge's order to stop immigration enforcement in Maricopa County, the Daily Beast reported. The case is being prosecuted by the Justice Department, which, as attorney general, Sessions heads. But what makes the scenario even more unlikely is that Arpaio's lawyers are asking for Sessions to be subpoenaed, meaning Sessions could testify in defense of Arpaio against a case brought by his own Justice Department.
Arizona federal Judge Murray Snow ruled that Arpaio's harsh immigration enforcement stances and tactics constituted racial profiling in 2011. Arpaio was ordered to stop, but he allegedly refused to do so. Snow found Arpaio to be in civil contempt of the ruling in May and ordered him to stop using those immigration enforcement tactics. Arpaio allegedly chose not to obey the order again and was charged by Snow, an appointee of for President George W. Bush, with criminal contempt.
The Arizona U.S. attorney's office recused itself because it had worked with Arpaio as a local law enforcement agent, which is how the case was referred to the Department of Justice.
READ: Did Jeff Sessions Get Trump To Fire FBI Director James Comey Amid Russia Probe?
Sessions can challenge the subpoena that Arpaio's lawyers plan to issue. However, if it's unsuccessful, Sessions will have to appear in the case that's set to start June 26.
Arpaio lost his re-election bid for sheriff on Nov. 8 -- the same day Trump was elected into office. The Trump administration, especially Sessions, has taken an immigration stance much more closely aligned with Arpaio's, and Trump has threatened to take federal funding away from city's that don't strictly enforce immigration laws.
© Copyright IBTimes 2023. All rights reserved.