Can Jeb Bush Win A 2016 Presidential Contest?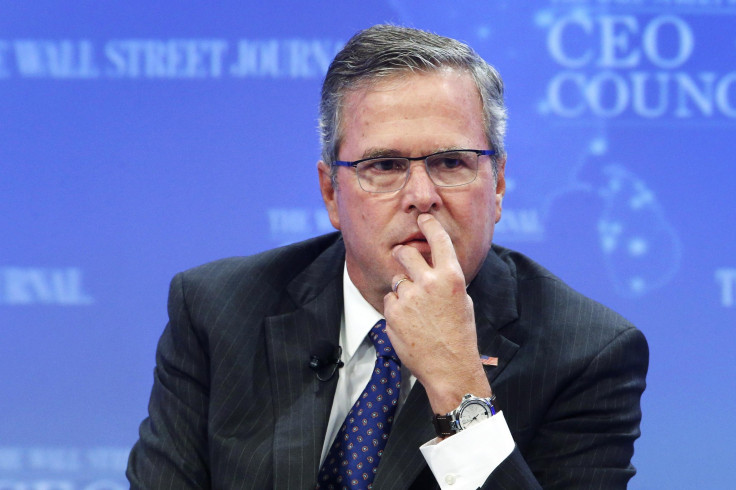 WASHINGTON – Jeb Bush may not yet have announced formally a White House run, but with a single Facebook message saying he's "decided to actively explore the possibility" of running, the former Florida governor did more to build a presidential campaign in a few minutes than other candidates have been able to build in years. But with that came the quick opposition that any front-runner faces.
Right now, the poll numbers look good for Bush; he's beating the rest of the possible GOP field in several national polls. Bush will have a lot going for him if he runs for president, like access to a wide network of donors and strategists who worked for his father and brother and remain dedicated to the family. It's a benefit none of his possible opponents will be able to replicate. But all the money he could raise -- and quickly -- might not be able to propel him beyond his two biggest liabilities: his last name and moderate policy positions.
It won't take long for most voters to realize that he's the brother of former President George W. Bush and son of former President George H. W. Bush. It's a political family with a loaded history. George H. W. Bush lost his bid for re-election after one term. George W. Bush left office very unpopular.
"If, perhaps, the Bush family were as distinguished as the Adams family of the 19th century there might be a compelling reason for electing three of them to the White House," said Rutgers political science professor Ross Baker. "This objection might be softened somewhat if Hillary Clinton is the Democratic nominee."
But the clearer it becomes that Clinton is likely to be the nominee, it could also backfire against Jeb Bush. A Republican primary opponent could make a credible argument to voters that if Clinton is the Democratic nominee, the opposition to a dynasty would help a non-Bush candidate.
Jeb Bush's supporters will argue that the two-term Florida governor has his own record that distinguishes him from his brother and father.
"I think there has been a pretty good reassessment about what went well and what didn't in each of the two previous Bush administrations. I think obviously, President Bush 43 is more popular today than at the last days of his term," said Tony Fratto, a Republican strategist who worked in George W. Bush's administration and campaign. He will back a Jeb Bush campaign if he runs. "What's most important is Jeb Bush is his own person and has his own record and his own voice and he has been pretty clear in how he addresses issues, his credibility and authenticity talking about issues over time."
But it's not just the possibility that voters won't want to create a dynasty, Baker said. He will face "the anti-establishment mood of the electorate and he is the very embodiment of that establishment," Baker said.
And Baker points out that Jeb Bush has some policy positions that are going to cause him trouble with the conservative base. Bush is a strong supporter of Common Core, a controversial set of education standards that conservatives have revolted against. Plus, Bush has been an advocate within the GOP of passing comprehensive immigration reform. Unlike Mitt Romney in 2012, Bush isn't going to move to the right on either one of those issues.
"He has said that he will risk losing some primaries in order to competitive for the general election, but I think he underestimates the zeal of the party's right wing," Baker said. "How he manages to finesse the statement that illegal immigration is 'an act of love' will be interesting to watch."
Conservatives have little interest in Jeb Bush, even though many publicly yearn for the days George W. Bush was in the White House. "He's going to run on an agenda that is in direct conflict with the Republican base," said Brent Bozell, a leading conservative voice and founder of the Media Research Council and grass-roots organization ForAmerica. "I don't think he can win."
Bozell, who doesn't plan to endorse in the 2016 primary, anticipates a lot of candidates getting in the race on both sides of the Republican spectrum. "The field is so wide open that anybody who has any presidential or higher office aspiration is going to think about running," Bozell said. "It's a smart play."
And because so many people will run, both moderates and conservatives, he thinks it will avoid the problem conservatives had the last two campaign cycles, where one moderate was able to squeeze out a crowd of conservatives. "The moderates are thinking that perhaps it will happen again," Bozell said. "I think that's not going to be the case this time around, because I think you're going to have a fight among moderates because they're all going to go for that same piece of the pie."
Jeb Bush will have to compete against the other moderates for the same poll of donors. "He, [New Jersey Gov. Chris] Christie and Romney are all going to be vying for it," Bozell said.
Christie and Romney have been working on their campaigns for years. Romney still has the remnants left of his last two runs, even though some of his staff have already signed on to other candidates. On the other side of the aisle, Hillary Clinton will also benefit from an existing campaign foundation.
A super PAC, Ready for Hillary, has been collecting the names of supporters and potential donors for Clinton since the end of the last election. Christie already employs presidential campaign veterans and, after toying with a run in 2012, has been telegraphing his likely 2016 campaign since then.
Jeb Bush hasn't been working to put together a campaign as long. But that might not matter. His public declaration that he will be creating a super PAC next month will likely send a strong signal to supporters not to sign on to another campaign.
The Bush family has built an extensive, national network of donors, consultants and strategists. Jeb Bush would be able to tap into that network with relative ease, activating quickly to compensate against other candidates who have been laying the foundation of a campaign for months or even years. Unlike some other likely 2016 candidates, Jeb Bush won't be looking to a specific industry – like Wall Street – to fund a presidential campaign. Instead, he will be able to turn to the wide-reaching group of bundlers who worked for his brother and father.
"Of all the candidates on the Republican side who can ramp up to a national campaign quickly, no one can do that better than Jeb Bush," said the GOP's Fratto. "He's got his own extended network and he's got the backbone of the family extended network as well. He's also very experienced about what a national campaign entails."
That means building a campaign could be the smallest of his problems.
"Presidential campaigns are incredibly complex operations and no family has proved that they know how to build one better than the Bush's," said Joe Brettell, a Texas-based Republican public affairs consultant. "Whether he'll be able to withstand withering attacks on issues like Common Core is another question, but I have no doubt that should he run, he'll have a first-class operation to try and pull it off."
© Copyright IBTimes 2022. All rights reserved.
FOLLOW MORE IBT NEWS ON THE BELOW CHANNELS