Can Sarah Palin Help Donald Trump Win The White House?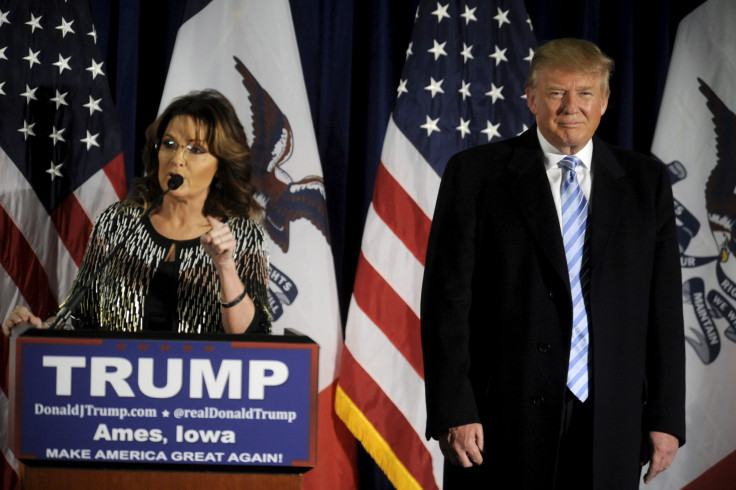 Republican front-runner Donald Trump appeared to revel in the news that he had won an endorsement Tuesday from Sarah Palin, a former GOP vice presidential nominee. Trump said he was "greatly honored" to have her backing, even though past elections have shown the name recognition she acquired in the 2008 race has only marginally boosted her fellow Republicans.
In the 2014 midterm elections, Sarah Palin pledged her support to 18 nominees for seats in the U.S. Senate and House of Representatives, according to super PAC US for Palin's master list of endorsements. Of those 18 races, only six of the nominees came out on top — Pat Roberts, a U.S. senator from Kansas; Bill Cassidy, a U.S. senator from Louisiana; Joni Ernst, a U.S. senator from Nebraska; Ben Sasse, a U.S. senator from Nebraska; Tim Scott, a U.S. senator from South Carolina and Dave Brat, a U.S. representative from Virginia. The victories put the former Alaska governor at around 33 percent success rate. Among the 12 other candidates who lost, the majority were defeated in primary elections of their races.
"In races that aren't as close, Palin's endorsement doesn't mean as much. Political endorsements aren't unimportant, but they aren't going to give a candidate a 10-point bump in the final results," wrote the Washington Post's Sean Sullivan in 2014. "Which means that it's hard to judge the influence of Palin, if any, on these races. Or, put another way: Even in the wins, Palin's influence probably didn't play a significant role."
Her endorsement may bode well for Trump in Iowa, where he is running a close race against Texas Sen. Ted Cruz. The latest Bloomberg-Des Moines Register poll released earlier this month showed the businessman with 22 percent support, behind Cruz's 25 percent among likely Iowa caucus-goers. But when it comes to the national election, it is less clear that a Palin endorsement would carry Trump to the White House. The impact of Palin's endorsement is relegated to certain parts of the country, according to GOP strategist Ron Bonjean.
"Palin's endorsement adds a boost of nitroglycerin with most Republican primary candidates that are looking for help with tea party grassroots support and contributions, especially in places where Obama is extremely unpopular," Bonjean told the Washington Post in 2014. "Her backing isn't as impactful to candidates in the Northeast, where candidates looking to win will have to be prepared to court independents and conservative Democrats in the general [election]."
Trump, nevertheless, has embraced Palin's support. "I am greatly honored to receive Sarah's endorsement," Trump said in a statement. "She is a friend and a high-quality person whom I have great respect for. I am proud to have her support."
Palin's celebrity has changed since her 2008 election, when she was a political unknown before Arizona Sen. John McCain made her his vice presidential pick for his failed presidential campaign. She later became a reality star with a show on TLC in 2010.
Palin was scheduled to appear at a Iowa State University campus in Ames late Tuesday afternoon with Trump to stump for the former reality show host.
"I'm proud to endorse Donald J. Trump for president," Palin said in a statement provided by his campaign.
The news comes as Cruz praised the former Alaska governor, despite her decision not to endorse him. Palin threw her support behind him in 2012, leading him to a U.S. Senate race win in Texas. "I love @SarahPalinUSA," he tweeted Tuesday. "Without her support, I wouldn't be in the Senate. Regardless of what she does in 2016, I will always be a big fan."
© Copyright IBTimes 2022. All rights reserved.
FOLLOW MORE IBT NEWS ON THE BELOW CHANNELS