Can Ted Cruz Win Super Tuesday Mobilizing Home-Schoolers? Republican Candidate Vying For Home-School Vote
The school day always starts at 8:30 a.m. in the Griffin household, when the two oldest children, J.R. and Riley, practice recitation before they study math, Latin and literature. After lunch come their classical and Christian studies. Sometimes the day's lessons extend beyond their textbooks, especially with the primary presidential election season at its height.
Tracy Griffin, 42, who home-schools her 8- and 9-year-old sons, will take the boys to canvass for Republican candidate Ted Cruz, going to neighbors' houses in Byron, Georgia, with cookies decorated for the Texas senator. Since their school calendar is flexible, traditional studies will be canceled on Super Tuesday, when people in 11 states vote and people in Alaska and American Samoa participate in caucuses.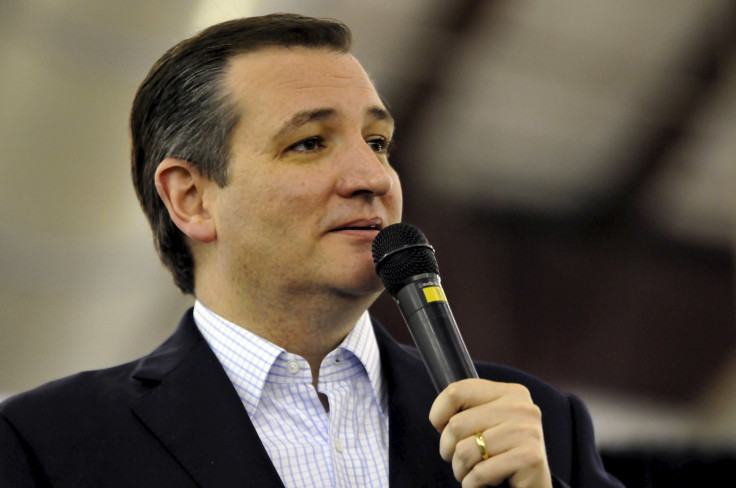 "We are going to try and stand outside on the corner with signs for Cruz," said Griffin, who is a co-chair of the Homeschooler for Cruz coalition in Georgia. "My husband has offered to drive people to polls."
Heading into Super Tuesday, home-schoolers' support may be critical for Cruz, who is locked in a tight race with Florida Sen. Marco Rubio to unseat front-runner Donald Trump. Although a small fraction of the population, the home-schooling community is a powerful voting bloc because its members are disproportionately likely to vote, donate and volunteer for campaigns. They're also more likely to back a conservative Christian who favors a limited federal government, especially in the arena of education, and the Texas senator fits the bill.
While on the campaign trail, Cruz has said that the Department of Education impedes local school district efforts and declared the Common Core, a nationwide set of educational standards, an overreach by the federal government. If elected, he promised to "return education to those who know our students best: parents, teachers, communities and states."
Nearly 2 million students are home-schooled in the country, a figure that has been on the rise, according to the 2012 census. Roughly 3 percent of the school-age population is home-schooled, and more than 80 percent are white. Home-schooling is especially popular in Alabama, Colorado, Georgia, Massachusetts, Minnesota, Tennessee, Texas and Virginia, or in most of the states slated to vote Tuesday.
During the Iowa caucuses, in a state where home-school students make up 6 percent of students, around double the national average, Cruz saw the greatest lead over Rubio, with an edge of 4.5 percent of votes. In other early contests, the two have seen results within single digits of one other in terms of percentages of votes. Cruz beat Rubio by 1.1 percent of support in the New Hampshire primary and lost to the Florida senator by 2.5 percent in the Nevada caucus.
Cruz's campaign is the only one with any framework for a home-schooling alliance. The Homeschoolers for Cruz coalition was launched in January, ahead of the Iowa caucus, with more than 6,000 members. The Cruz campaign did not respond to requests about current membership.
"I see him as one of us and someone who shares our values," coalition co-chair Will Estrada said. "We have seen him as someone who would go to bat for home-schoolers. He was one of the first elected officials to go out against the Common Core and a lot of home-schoolers see that as an attempt to nationalize education."
Estrada said the group has particularly robust support in Super Tuesday states such as Virginia and Texas. Cruz's primary campaign in Iowa, the only state he has won, saw significant support from home-schoolers, he said.
"Many of them are home-schoolers on the ground, and it's families — parents and kids. They're getting the word out on social media," Estrada said.
Home-school graduates are not only more likely to vote, going to the polls at a rate of 76 percent compared to 29 percent of the general population, but are also more likely to campaign, attend public meetings, sign petitions and protest than their adult counterparts.
"If they are your friends and you're a candidate, that's definitely a good thing," said Brian Ray, president of the National Home Education Research Institute, which is based in Oregon. "They are good at knocking on doors and pounding the phone books. They have a little extra time because they're not in school eight hours a day."
Civic and political engagement has become a habit for home-school graduates, largely because the act is embedded in home-schooling's own history. Not until 1991 did all states allow students to be home-educated, and in some cases, parents who did not comply faced jail time. The anti-home-schooling laws prompted many home-schooling families to become involved in politics.
"The attempt to directly regulate and ban our educational approach required home-schooling families to be politically active, but once we won that battle, they stayed engaged," said Michael Farris, chairman of the Home School Legal Defense Association, which is based in Virginia.
Ted Cruz Presidential Candidate Profile | InsideGov
Around three-quarters of home-schooling families identify as Bible-believing Christians, according to the National Home Education Research Institute. For Cruz, who often invokes the Bible while on the campaign trail, it seems natural he would vie for that community's support.
But home-schooling organizations said other candidates should not be quick to dismiss them. Karen Skelton, who is president of the Organization of Virginia Homeschoolers, said the group's membership cannot be painted with the same brush, as it is one of the few statewide home-schooling organizations in the country that is not Christian in orientation.
"There's the conservative Christians and there's everybody else," she said. "We have members that identify as Muslim, Jewish, liberal Christians, the crunchy back-to-nature homesteading group with a brood of chickens and the libertarians."
Not everyone is looking for a "pastor-in-chief," she said, referring to a name she heard people calling Cruz during a recent trip to New Hampshire during the state's primary.
"Cruz knows how to tap into that element of home-school families of how they are very civic minded, politically engaged and informed," Skelton said. "But there are a whole lot of families going about the business of educating their kids that do not fit the definition of Christian conservative home-schoolers and are definitely not voting for Ted Cruz."
© Copyright IBTimes 2022. All rights reserved.
FOLLOW MORE IBT NEWS ON THE BELOW CHANNELS