Cardi B Wears Golden Face Mask At American Music Awards; Fans React [Photos]
Cardi B stunned fans with her red carpet look at American Music Awards 2021, held at Microsoft Theater in Los Angeles on Sunday.
The 29-year-old rapper, who hosted the award ceremony this year, walked the red carpet wearing a golden mask and an off-the-shoulder black gown, which had a transparent veil covering her head.
The rapper also donned long black gloves to compliment the look along with massive earrings. Her signature long nails were painted golden this time to match her face mask.
This is the first time when the "WAP" star hosted the American Music Awards and she made sure that viewers do get something unique to see on the red carpet, to start with. The rapper went on to change multiple outfits throughout the show.
Cardi B took to Twitter Sunday to share her red carpet look and captioned the photo, "We just gettin started over here…"
Many fans took to the comments section to share their reaction.
One of the fans wrote, "That mask scared me girl, but you definitely made a statement," while another fan compared her mask with Netflix's popular series, "Squid Game" villain and shared a photo:
Before starting the show, the rapper spoke with ET on Sunday evening regarding her outfits. "It's gonna be fashion," Cardi said. "I'm gonna be giving you couture ... custom, Paris, fresh off the runway."
Besides the golden mask look, the rapper also flaunted more outfits during the event:
The mother of two further revealed that she is not focusing on if she is going to win any awards but she is more focused on her hosting duties. Cardi B is nominated in three categories: Favorite Female Hip-Hop Artist, Favorite Music Video and Favorite Hip-Hop Song.
Moreover, she noted that one of the reasons for her nervousness is facing the camera after so long, considering there was a long break due to the COVID-19 pandemic.
The event was aired on the ABC network at 8:00 p.m. Sunday and is slated to stream on Hulu from Monday.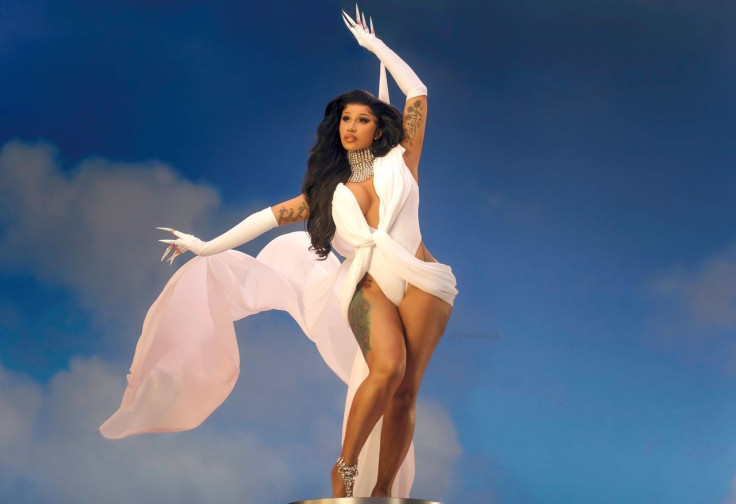 © Copyright IBTimes 2023. All rights reserved.