Carly Fiorina CPAC Keynote Speech Hits Republican Establishment's Trump Attacks, Hillary Clinton [VIDEO]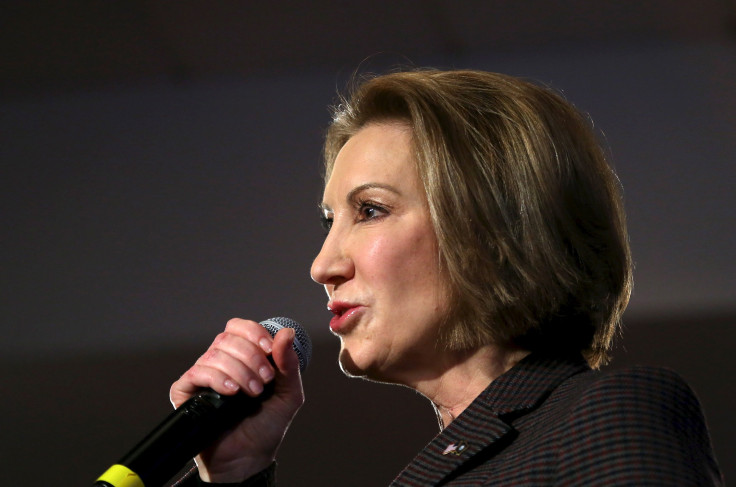 Former Republican U.S. presidential candidate Carly Fiorina railed against Democratic White House hopeful Hillary Clinton and the GOP establishment in a keynote speech at the Conservative Political Action Conference (CPAC) Friday. And while she is no fan of Republican presidential candidate Donald Trump, Fiorina said, the GOP's efforts to slow its leading candidate have left voters feeling "betrayed."
"Over half of the Republican electorate feel 'betrayed' by their party. That is a big number and a strong word," Fiorina said in her speech at the Ronald Reagan dinner at CPAC in Maryland.
Fiorina made sure to point out that she was not a supporter of Trump and did not vote for him in the primary in her home state of Virginia, which the billionaire New York businessman won. But the former CEO of Hewlett-Packard critiqued the GOP establishment for leading efforts to stop Trump.
"If we want to defeat Donald Trump, we cannot turn to the establishment once again and ask them to guide the citizenry to the right answer," Fiorina said. "If we want defeat Donald Trump, we must defeat him at the ballot box, by offering citizens conservative solutions to the problems in their lives."
Amid a crowded GOP field of candidates, Fiorina suspended her run at the White House in early February. The field has since thinned to just four candidates — Trump, Texas Sen. Ted Cruz, Florida Sen. Marco Rubio and Ohio Gov. John Kasich — following retired Dr. Ben Carson officially dropping out earlier Friday at CPAC. Trump has caused turmoil inside the GOP establishment, which has in recent weeks increased attacks against him. Most recently, 2012 Republican presidential nominee Mitt Romney railed against Trump in a televised speech, calling him a fraud, liar, bad businessman and a danger to the country.
But while Fiorina critiqued the GOP for going after its own candidate, she also launched attacks against Clinton. The former CEO hit on issues from Clinton's time as secretary of state, including her private email server and the attack on a U.S. diplomatic compound in Benghazi, Libya. Fiorina also called on women not to vote for Clinton simply because she was a woman.
"To all the women and girls across this country, regardless of your ideology or your party, let me say this: do not let others define you," she said. "Do not listen to anyone who says you have to vote a certain way or for a certain candidate because you are a woman."
Fiorina ended on a positive note, stressing the need for conservatives to work together.
"Let us together, take our politics and our government back," she said. "Together we can take our country back."
© Copyright IBTimes 2022. All rights reserved.
FOLLOW MORE IBT NEWS ON THE BELOW CHANNELS