Does Mitt Romney's Trump Attack Hurt The GOP? Speech Railing Against Front-Runner Could Do More Damage Than Good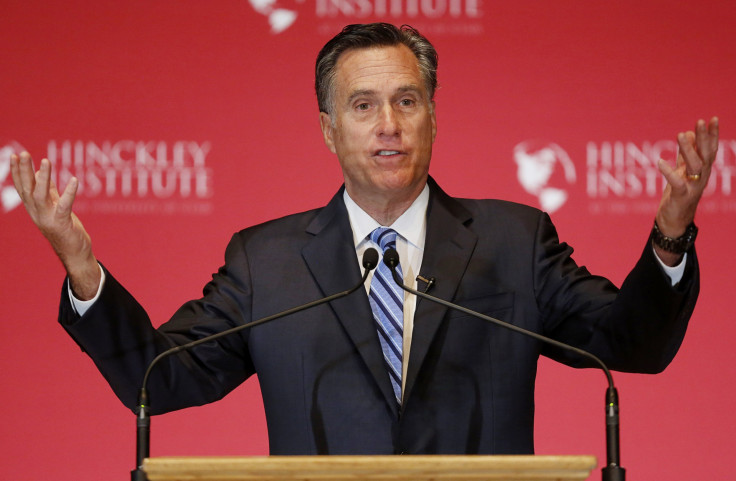 If you don't have anything nice to say – say it again, but louder and on a bigger stage. At least, that's the latest strategy of the Republican establishment and Mitt Romney, who railed in a speech Thursday against the front-runner to become the presidential nominee, businessman Donald Trump.
Romney — the unsuccessful Republican nominee in 2012 – attacked nearly everything about Trump, including his temperament, his policies (or lack thereof) and his business acumen. The New York City mogul is a liar, a fraud and dangerous to America's future, according to the former Massachusetts governor, who delivered the highly publicized speech at the University of Utah in Salt Lake City.
"His is not the temperament of a stable, thoughtful leader," Romney said, calling Trump "a phony" who is "playing the American public for suckers."
The televised event marked the latest in a string of increasingly desperate party efforts to slow Trump's rise before time runs out. But while the move could certainly hurt Trump, it also runs the risk of sending the Republican Party – already scrambling and attacking its own candidate — into further disarray, in the process alienating the business mogul's many voters.
"This whole mess doesn't bode well for the Republican Party," said Richard Benedetto, a professor of political science and journalism at American University in Washington. "I found it a little bizarre to see the party establishment going to such lengths to try to stifle what appears to be the voice of the people."
After his failed bid for the presidency four years ago, Romney has remained popular in the party. In January of last year, 82 percent of self-identified Republicans held a favorable view of the former Massachusetts governor, according to a YouGov /Economist poll. He was also far and away the favorite choice among Republicans to represent the party in the 2016 election at the time, but, of course, that was well before Trump entered the field with a June announcement in New York City.
In the 2012 election, Romney picked up support from 93 percent of Republicans and the majority of voters over 45. Eighty-nine percent of Romney voters were white, and he garnered 59 percent of the white vote overall. Those figures seem to mirror the GOP, which is aging and has struggled to appeal to nonwhite voters. President Barack Obama dominated among women, minorities and young people on his way to winning a second term with relative ease.
Exit polls, meanwhile, suggest Trump has drawn considerable support from disaffected Republicans and those who want to close U.S. borders. Trump now holds a substantial lead in the delegate count over Texas Sen. Ted Cruz, Florida Sen. Marco Rubio and Ohio Gov. John Kasich and, with dramatically increased Republican turnout, is outpacing Romney's 2012 run in terms of total votes earned. The party establishment as a whole has been wary of Trump, and at first thought he would fade. But as Trump's lead has grown, the other GOP candidates have copied his tactics while ramping up attacks against him in recent weeks.
Trump has built a lane toward the nomination with angry voters fed up with the GOP, and Romney's condemnation might just cause his supporters to dig in further.
"When the establishment turns around and tries to deny their vote, it's only going to increase their anger," said Benedetto. "I think that the party establishment is really concerned about losing control, losing power."
Dan Scavino, a senior Trump adviser, took to Twitter after Romney's speech, posting that, if anything, the Utah event helped the front-runner cement his lead. He called it an "incredible endorsement" and "GOLD" that was making the Trump campaign stronger.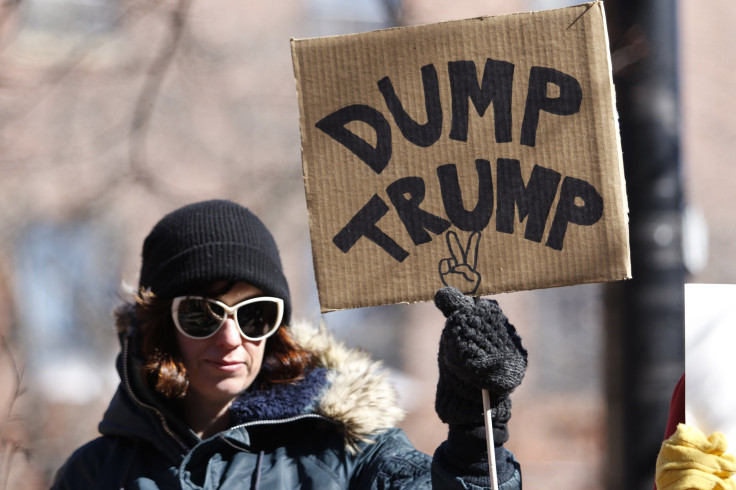 Back in simpler times for the party, Romney in 2012 gladly accepted Trump's endorsement, along the way praising the billionaire's accomplishments in business. The mogul, in typically meandering and emphatic fashion, struck back Thursday from Maine, dismissing Romney's critiques and boasting that in 2012, "I could've said, 'Mitt, drop to your knees,' he would have dropped to his knees."
But while Trump might downplay the effects of Romney's speech, others think it has a shot to prove useful, or, at the very least, won't do further damage to a party already on the brink of chaos.
"I don't know how much more damage can be done. The downside risk is minimal," said Rich Galen, a Republican strategist and onetime press secretary for former House Speaker and presidential candidate Newt Gingrich. "Somebody who's a strong Trump supporter can only vote once. But I think that it's probably a good idea from the establishment point of view that everybody has a focal point to operate from."
In other words, Romney has given Trump's foes a neat laundry list of his sins. But this election cycle has defied anything resembling a typical narrative.
"Every time anybody — any pundit of any stripe – has said, 'This is what's going to happen next' has had to go back on the air and say, 'That didn't work out the way I expected,'" Galen said.
Romney's speech touched on just about every criticism that has been levied against Trump. He denouced Trump's proposed freeze on Muslims entering the country, took jabs at failed business ventures and highlighted a seeming lack of concrete positions. Juleanna Glover, a prominent GOP consultant who has served on the senior staffs of then-President-elect George W. Bush and former Vice President Dick Cheney, said she agreed with "every syllable" of Romney's address and that it was a comprehensive argument against Trump's statements and positions.
But, with Super Tuesday in the rear-view mirror and Trump's base of support already strong, it could prove too late in the game. Anything could happen, Glover pointed out, and ahead is the March 15 primary in Florida, where polling hasn't caught up with the recent slew of attacks.
Still, Glover said, "I do think this would have been a speech that would have been most appropriate Jan. 1."
FOR FREE to continue reading
✔️ Unlock the full content of International Business Times UK for free
offer available for a limited time only
✔️ Easily manage your Newsletters subscriptions and save your favourite articles
✔️ No payment method required
Already have an account?
Log in
© Copyright IBTimes 2023. All rights reserved.