'Carol' Beautifully Captures An Elegant Romance Thanks To Cate Blanchett And Rooney Mara [REVIEW]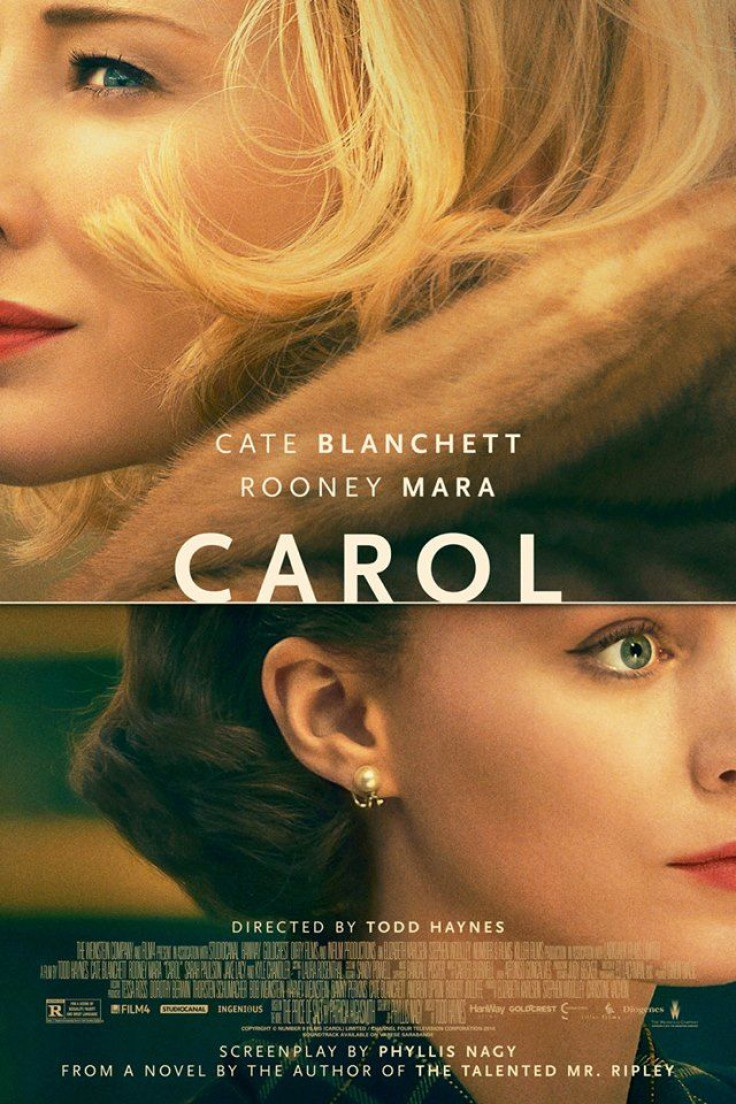 There are certain movies studios purposefully release at the end of the year for awards consideration. Critics and guild and academy members find themselves in an end-of-the-year bottleneck with screening after screening in an effort to catch all of the likely contenders. 'Tis the season where almost every actor overacts and almost every movie is either devastatingly tragic or inspirational. In this year's rat race, Todd Haynes' "Carol" brings a formidable amount of elegance and talent thanks to stars Cate Blanchett and Rooney Mara.
Shopgirl Therese (Mara) isn't particularly enthused by her prospects in life -- her boyfriend, job and friends are more like routines she endures daily. That is until Carol (Blanchett) arrives at her department store to buy a gift for her daughter. The two strike up a rapport quickly and passionately. But Therese quickly learns this isn't Carol's first rodeo, it's hers.
Mara and Blanchett's longing gazes and self-consciousness are easily felt through the screen. In 1950s homophobic America, the costs of being found out could ruin one's life. While Therese acts like a romantic escape for Carol, her divorce and custody battle hinge almost entirely on her violation of a morality clause. It wasn't so long ago that homosexual parents could lose their children; some LGBT couples in certain states still don't have adoption rights.
The other side of the coin is Therese's budding relationship with her older partner. It is both a sexual and personal awakening for her. Carol provides a system of support for her. She encourages Therese to work on her photography more and push for a job at the New York Times (not exactly an easy feat for a woman at the time). Not only does Therese feel the world open to her, she begins to find other women who like women, too. She is no longer alone just going through the motions.
Costume designer Sandy Powell merits her own standing ovation. Despite her outfits' ordinary time-appropriate appearance, the attention paid to the fabrics and details are exquisite. The two leads are dressed to reflect their personalities and class. Blanchett looks as if she could have stepped out of a lavish MGM production, replete with furs, pearls and leather gloves to accentuate her skirt-and-jacket combos and loungewear-like pants. Mara is dolled up like a dressed-down Audrey Hepburn, humble with noticeably less comfortable and ornate clothes than her well-to-do partner.
Breathless talk about the Oscar chances for "Carol" is already underway. Rather than fetishize its awards chances or that there's a tender love scene between two women, it's best to buy a ticket because the movie is a lovingly crafted romantic period piece. Get to the theater before the hype overwhelms the touching drama. "Carol" is worth falling in love with.
"Carol" opens in theaters Nov. 20.
© Copyright IBTimes 2022. All rights reserved.
FOLLOW MORE IBT NEWS ON THE BELOW CHANNELS