Carrie Fisher Dead: 'The Force Awakens' Cast Reacts To 'Star Wars' Actress' Death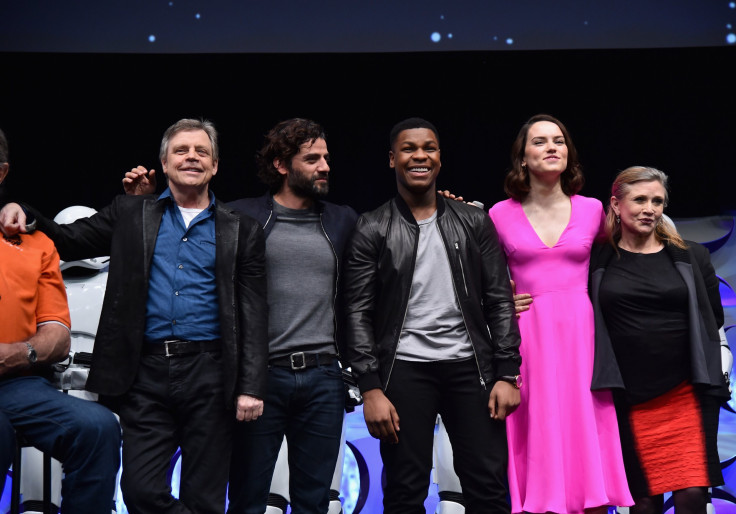 Carrie Fisher has been working with some members of the "Star Wars" cast for decades, but even those she only met recently are mourning her death. The Princess Leia actress died Tuesday after suffering a heart attack last week. The new cast members of the "Star Wars" franchise have publically commented on the loss.
John Boyega was one of the new cast members who Fisher worked with while filming "Star Wars: The Force Awakens." The Finn actor tweeted early Wednesday morning with a photo of himself and Fisher.
Oscar Isaac, who plays Poe Dameron, embraced Fisher's sense of humor when he posted a photo of them together on set. Fisher is seen giving the middle finger. See the photo on Facebook.
"My heart breaks to hear the news of Carrie's passing. My thoughts are with her family," he wrote. He added a #maytheforcebewithyou hashtag.
Daisy Ridley, who is not on social media, released a statement as well. "Devastated at this monumental loss," the Rey actress told Entertainment Weekly. "How lucky we all are to have known her, and how awful that we have to say goodbye."
Like Fisher, Ridley is the leading lady of the new trilogy. At 'Star Wars' Celebration 2015, Fisher emphasized that she wasn't jealous of having another woman on set. "It's good to have a little help," said Fisher. "I liked being the only one when I was 19… Now, I need some backup."
The trio is expected to appear in the follow up to "The Force Awakens," "Star Wars: Episode VIII." Fisher reportedly finished filming her role as General Leia Organa prior to her death. The directors of both "Episodes VII" and "Episode VIII," J.J. Abrams and Rian Johnson, respectively, also reacted to the news on Twitter.
Of course, the original "Star Wars" cast is grieving Fisher's death as well. See reactions from George Lucas, Mark Hamill and Harrison Ford HERE.
Fisher is survived by her siblings, Todd Fisher, Joely Fisher and Tricia Leigh Fisher as well as her daughter Billie Lourd. Her mother, Debbie Reynolds, is also still living.
© Copyright IBTimes 2023. All rights reserved.