Carrie Underwood Style: Where to Buy Her Best Looks [PHOTOS]
Carrie Underwood's style might have started out as pageant perfect, but the blonde beauty's look has since evolved into something a bit edgier.
Of course, Underwood is still a sucker for sparkles. You can see her wearing sequins, rhinestones and glitter on many-a-gown. But she has been working in sexier pieces as well to offset the Beauty Queen persona.
You want people to see you and think, 'Wow! She looks awesome,' Underwood has said. 'Wow! She's a star.'
Nonetheless, the Oklahoma-native is trying to fight against all those pesky country-star stereotypes.
Some people think all country singers wear cowboy hats and rhinestones, 28-year-old Carrie Underwood has told InStyle magazine. I'm changing that image.
These days, Underwood can be seen wearing everything from hockey jerseys to mermaid gowns to leather corsets. She is not afraid to take some risks.
Underwood is still a southern girl at heart. She favors boutique designers who specialize in couture gowns and wedding attire rather than trendy runway masters. Some of her favorites include Ina Soltani, Georges Chakra and Randi Rahm.
When the singer wants to get a little wild she will reach for Rock & Republic, White Trash Beautiful or Jenny Packham who each make clothes with a hint of rebellion.
When she is not on the red carpet or performing her heart out on stage, the singer opts for casual comfort. Dark denim, flowy blouses, soft knits and knee-high boots are some of her staples.
Check out some of Carrie Underwood's best looks and find out where to buy them for yourself.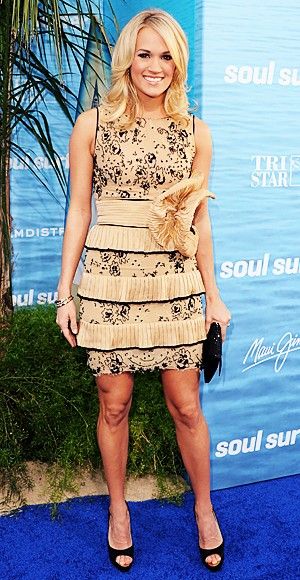 © Copyright IBTimes 2023. All rights reserved.