Casey Anthony: 'An American Murder Mystery' 3-Part Series Airs On Investigation Discovery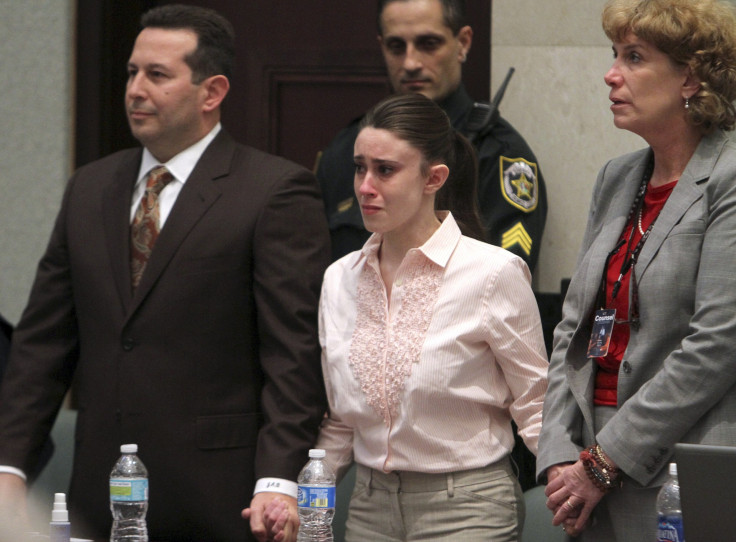 Investigation Discovery will showcase the weekslong trial of Casey Anthony, the mother of 2-year-old Caylee Anthony, who was tried and acquitted of aggravated manslaughter, aggravated child abuse and first-degree murder in 2011.
"Casey Anthony: An American Murder Mystery," will air April 9-11 at 10 p.m. EDT.
Read: Casey Anthony Ever Pregnant Again? Caylee's Mom Shares Thoughts On Another Baby
Viewers will see interviews with Casey Anthony's parents, George and Cindy Anthony, for the first time. The channel said Anthony's parents offer "a unique look into the inner workings of the Anthony family and how the trial of Casey still haunts them today." Other interviewees include Clint House, a former friend and confidant of Casey's; Judge Belvin Perry Jr., who supervised the trial; Russ Huekler, an alternate juror; and Kevin Beary, the former Orange County sheriff, the Orlando Sentinel reported.
ID is working with Weinstein Television, Jupiter Entertainment and American Media Inc. on the program, and it said the show would not only reveal to viewers new evidence and new footage of Anthony, but it will show "the definitive look at every angle of this heartbreaking case and whirlwind legal showdown."
"Some cases just capture the nation's attention and this case was a firestorm — the panicked search for a missing toddler, a frantic family, police sent to chase suspects who may or may not exist, media demanding answers and devastated grandparents caught between their daughter's lies and their desperation to find their granddaughter alive," said Henry Schleiff, group president of Investigation Discovery, American Heroes Channel and Destination America. "Sex, betrayal and deceit are at the heart of this series, which will make viewers feel as if they are in the room for the bombshell prosecution of Casey Anthony as she was tried in both the court of law and, ultimately, the court of public opinion."
You can watch the extended sneak peak here.
Anthony, now 30, did not give an interview for the show. However, she recently gave one to the Associated Press. Anthony, who was once dubbed "the most hated mom in America" still claimed she doesn't know what happened to her daughter the night of her death let alone care how people viewed her.
"I don't give a shit about what anyone thinks about me. I never will," Anthony told the AP in her first interview since the 2011 acquittal. "I'm okay with myself. I sleep pretty good at night."
To date, Anthony lives in South Florida in the home of Patrick McKenna, the lead investigator for the defense on her case. She now works for him doing investigative work, including social media searches.
© Copyright IBTimes 2023. All rights reserved.