Celebrity Parents: Pregnant Tori Spelling And 10 Other Famous Parents Who Have 5 Kids Or More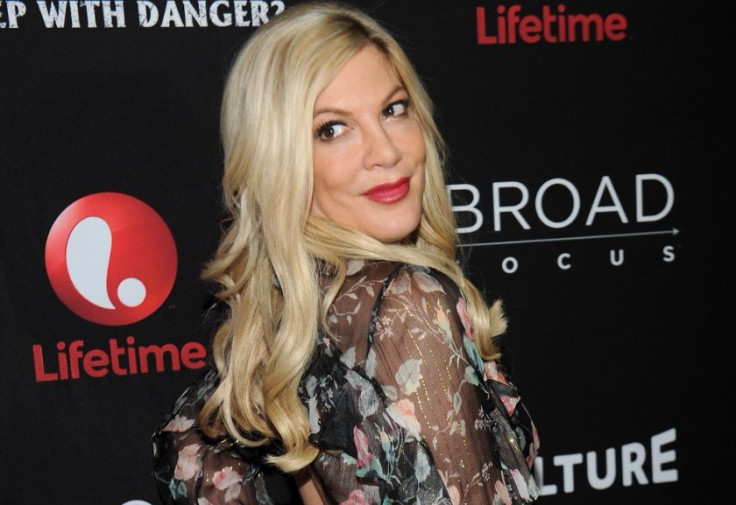 "Beverly Hills 90210" alum Tori Spelling thought she was done having children, but those thoughts were dashed when she recently announced she is pregnant. This will be her fifth child with husband Dean McDermott.
"It was a total surprise," Spelling told People Magazine in an exclusive interview Wednesday. "But we always wanted a big family. I'm really excited."
They are parents to Liam, 9, Stella, 8, Hattie, 5 and Finn, 4. McDermott also has an 18-year-old son, Jack, from a previous marriage. "Dean was saying, 'We just got Finn out of diapers; I thought we were in the clear!'" she said. "For the first time this year, they're all in school. So it's like, wow. We're basically starting over."
But McDermott, 49, and Spelling, 43, are looking forward to their future bundle-of-joy. "This baby happened at the best time," the actress said. "Nothing is ever perfect, but I'm so madly in love with my husband and with our kids. The idea of adding to that is such a blessing."
She's not the only celebrity to have a house full of children. Listed below are some other famous stars who have five children or more.
1. Angelina Jolie/Brad Pitt: The estranged couple has six children between them.
2. Chris O'Donnell: The actor shares five children with wife Caroline Fentress.
3. Taylor Hanson: The "Hanson" singer has five children with his wife, Natalie Bryant.
4. Bruce Willis: The actor has five children. Three of Willis' children are from his marriage to actress Demi Moore and two from his current wife, Emma Heming.
5. Jim Gaffigan: Lots of laughs in this household. The comedian has five children with his wife, Jeannie.
6. Kris Jenner: Most Americans are probably familiar with this momager's brood. She has four children from her first husband Robert Kardashian and two from ex Caitlyn Jenner.
7. Robert DeNiro: The much-acclaimed actor has six children; four are from his marriage to Diahnne Abbot and two children with his second wife, Grace Hightower.
8. Steven Spielberg: The famed director is a father to seven children. He had one child with first wife Amy Irving, six with current wife, Kate Capshaw.
9. Mel Gibson: The actor-director has eight children; seven are from his first marriage to Robyn Moore Gibson and the last if from his relationship with Oksana Grigorieva.
10. Mia Farrow: The actress has 11 children (seven adopted and four biological) with former husband Andre Previn, Woody Allen and possibly Frank Sinatra. Three of Farrow's children are deceased.
Follow on me on Twitter @mariamzzarella
© Copyright IBTimes 2023. All rights reserved.