'Mother, May I Sleep With Danger' 2016 Movie: When And Where To Watch The James Franco, Tori Spelling Lifetime Remake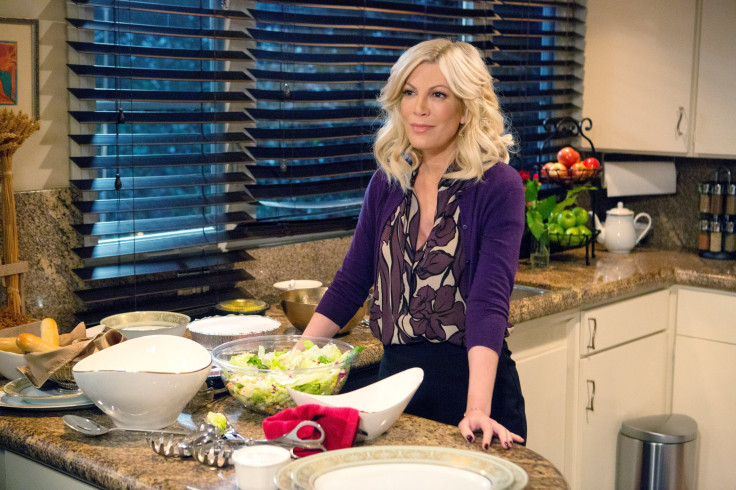 Clear your Saturday night because the "Mother, May I Sleep With Danger" remake is hitting Lifetime. The classic TV movie was originally released in 1996 and starred Tori Spelling, then in the height of her career from "Beverly Hills, 90210," and fellow teenage heartthrob Ivan Sergei. Spelling and Sergei are back to breathe new life to the movie, and they're doing so with actor James Franco.
The original "Mother, May I Sleep With Danger" film is about a girl named Laurel (Spelling) and her devoted boyfriend, Kevin (Sergei). Laurel believes that Kevin is truly the ideal partner. However, her mother suspects that there is something darker going on with him. When Kevin begins to get aggressive, Laurel starts to think that maybe her mother is right.
Now, on the 20th anniversary of the original film, Lifetime is remaking it – but with some serious changes. Spelling plays Julie, the loving mother of Leah (Leila George). Like the 1996 version, Leah falls in love. However, the twist is that Leah's partner is a vampire named Pearl (Emily Meade). Of course, sleeping with a vampire is dangerous, but the movie is actually a love story. Pearl can cure her lust for blood if she can only find her soulmate. The problem is whether Julie can sit back and allow her daughter to be seduced by a vampire.
"I forbid you to see her again," Julie tells her daughter in the trailer. "She's dangerous."
Unfortunately, that's something that Leah has to figure out for herself.
The 2016 remake is based on a story by Franco, but the actor also plays a college play director. The movie is written by Amber Coney and directed by Melanie Aitkenhead.
Catch "Mother, May I Sleep With Danger" when it airs on Lifetime on Saturday, June 18 at 8 p.m. EDT.
© Copyright IBTimes 2023. All rights reserved.