Chanukah 2011: How to Light Candles and Win a Free Trip to Israel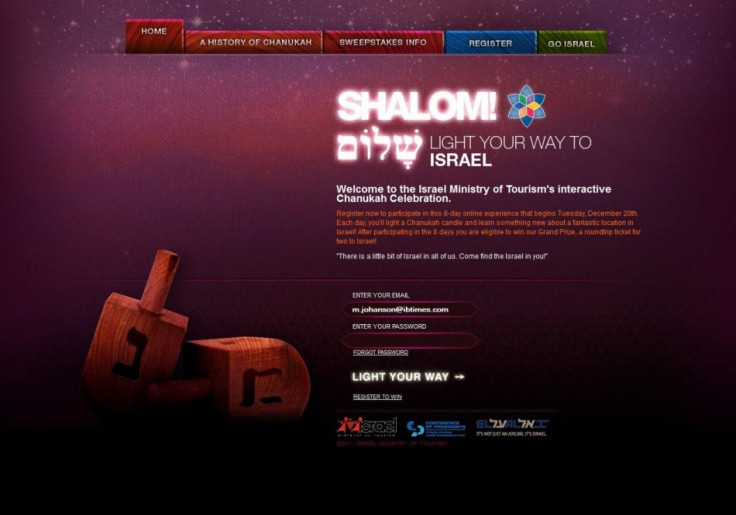 The eight day Jewish Festival of Lights, Chanukah, begins on Dec. 20, 2011 at nightfall.
Chanukah is observed by the kindling of the lights of a special candelabrum, the nine-branched Menorah or Chanukiah, one light on the first evening of the holiday, two on the second, etc., progressing to eight on the final night.
In honor of the celebration, the Israel Ministry of Tourism, in cooperation with El Al Israel Airlines, re-launched its popular Chanukah microsite where visitors can log on and light virtual candles for each night of the holiday.
Developed in cooperation with the Conference of Presidents of Major American Jewish Organizations, the site went live at noon Tuesday. With each lit candle, visitors to the Chanukah Web site will access more information about travel to Israel.
At the end of Chanukah, site visitors who've lit all eight candles will be eligible for a free trip to Israel aboard El Al Israel Airlines.
The site is much more than a way to win a trip to Israel -- it provides a unique tool for visitors to learn more about exciting sites in Israel, as well as the history and meaning of Chanukah, said Haim Gutin, Israel Commissioner for Tourism, North and South America. And we are delighted to have the backing of the Conference of Presidents, as well as EL AL, for a promotion that links celebrating Chanukah with vacations in Israel.
This year, the tourism board will focus on Israel's diverse museums and major cultural institutions - destinations the winner will have a chance to experience in person.
The contest is open to legal residents of the 50 United States and the District of Columbia who are 21 years of age or older at the time of entry. To enter, register to the Web site www.goisrael.com/chanukah and follow the instructions.
© Copyright IBTimes 2023. All rights reserved.