Chelsea Clinton Leaving Hospital With Newborn Aidan Sparks Royal Family Comparison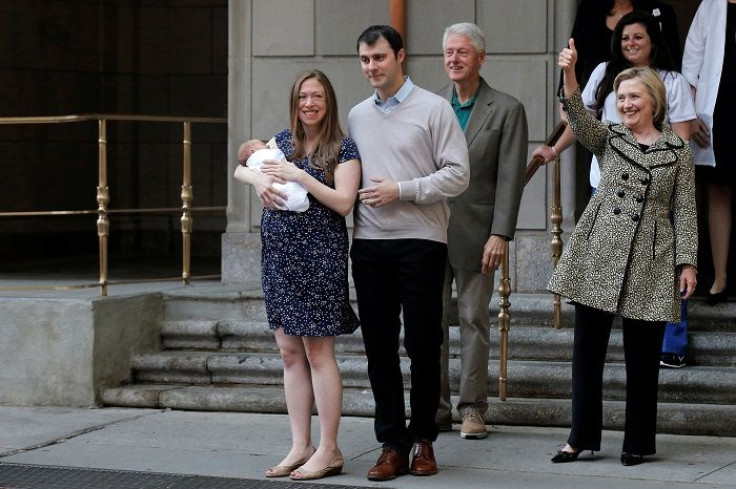 Images of Chelsea Clinton leaving the hospital with her baby son Aidan has been compared to previous photos of the Duke and Duchess of Cambridge when they brought their children home.
Former U.S. president Bill Clinton and presidential candidate Hilary Clinton's daughter recently gave birth to her second child with Marc Mezvinsky. Chelsea welcomed her son Aidan on Saturday. She, her husband and baby Aidan left New York's Lenox Hill hospital on Monday where they were photographed just outside the hospital's steps. Some royal fans, who may have seen the said photos, would be reminded of Kate Middleton and Prince William when they welcomed their own children in London, E!News reported.
Avid fans may recall that the Duke and Duchess of Cambridge also posed on the steps of a London hospital when they brought Prince George and Princess Charlotte home in 2013 and 2015, respectively. Similar to Kate, Chelsea also wore a dress and carried her baby swaddled in a blanket. In the photos, both Chelsea and husband Marc were all smiles, while proud grandparents Bill and Hilary stood beside them.
Chelsea also wore a blue floral dress that looks slightly similar to the one that the Duchess of Cambridge previously wore when she left the hospital in 2013 after giving birth to Prince George, according to Entertainment Tonight. The former U.S. First Daughter donned a dark blue dress with floral prints and nude colored shoes. On the other hand, her husband Marc wore a light beige long-sleeved sweater over a white colored shirt.
Meanwhile, Chelsea has already shared several photos of her baby son Aidan on Twitter. She posted a picture of herself cradling her son in her arms while proud dad Marc looked over them. She wrote on the said social media site that her family feels "blessed" with Aidan's arrival.
At 7:41 AM Saturday, our family and hearts expanded with Aidan's arrival. We are blessed. pic.twitter.com/QKUMV3ls4N

— Chelsea Clinton (@ChelseaClinton) June 19, 2016
© Copyright IBTimes 2023. All rights reserved.