Who Is Aidan Mezvinsky? Chelsea Clinton Gives Birth To Son, Her Second Child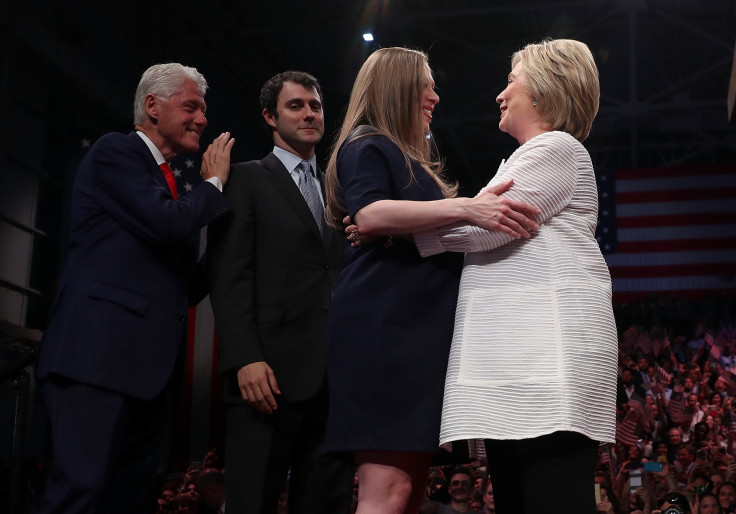 Hillary Clinton is a grandmother times 2. Daughter Chelsea announced the birth of son Aidan on Twitter on Saturday, saying she and husband Marc Mezvinsky were "overwhelmed."
Clinton, 36, and her investment banker husband also have a 20-month-old daughter, Charlotte. The couple married in a lavish wedding in 2010, having met at Stanford University.
The former first daughter has been active in her mother's campaign for the Democratic presidential nomination, making appearances at fundraisers as recently as last month in advance of the New Jersey primary, and the elder Clinton often talks about being a grandmother, saying there's "just nothing better" and quipping FaceTime was invented for grandparents. This month, she said becoming a grandparent was like "falling in love" again.
Hillary Clinton has no public events scheduled this weekend, freeing her up to dote on the new addition to the family. She and former President Bill Clinton issued a statement Saturday saying they were "overjoyed" to be grandparents again, NBC reported.
"We are all over the moon as Chelsea and Marc welcome Charlotte's little brother to the world and grateful for our many blessings. Chelsea and Aidan are both doing well and enjoying this very special time together," they said.
Chelsea Clinton serves as vice chairwoman of the Clinton Foundation, the family's nonprofit. Its stated mission is to improve health and wellness globally, but it has come under scrutiny for some of the donations it has accepted from countries such as Saudi Arabia that criminalize homosexuality. There also have been questions about perks granted to major donors while Hillary Clinton was secretary of state.
Chelsea Clinton tries to keep her family out of the spotlight but did tweet this picture of her and Charlotte last year:
In a recent interview with Radio Disney, Clinton said she had a pretty normal upbringing while her parents were in the White House but still recognized she was part of history.
© Copyright IBTimes 2023. All rights reserved.