Chelsea Handler Opens Up About How Jo Koy Romance Started, Became A 'Great Love Story'
KEY POINTS
Chelsea Handler said that during the pandemic, she found herself missing Jo Koy more than she thought she would
She shared that attraction "wasn't there in the beginning" but developed over time between them
Handler admitted that she wouldn't have been open to dating Koy if she hadn't undergone therapy
Chelsea Handler is sharing how her romance with her boyfriend Jo Koy began.
In an interview for E! News' digital cover story, the 47-year-old former "Chelsea" host revealed that she had been perfectly fine being single before she unexpectedly fell in love with one of her closest friends.
During the pandemic, she found herself missing Koy, who had been a panelist on her show "Chelsea Lately," more than she thought she would, according to Handler.
"When he was leaving, I was like, 'That's a bummer,'" she recalled. "Or if I didn't hear from him for a couple of days, I was like, 'Where's Jo Koy? He's usually up my a--.' And then I started to realize, 'Oh, he's not annoying me.'"
Handler and Koy were friends for years before they started dating. Initially, she didn't believe in the idea of "friends-to-forever," but things changed after she and the comedian started their relationship.
"Everyone said, 'You can fall in love with your friends.' And I was like, 'No you can't,'" Handler said. "Like either the attraction is there or it's not. And guess what? It wasn't there in the beginning, and it developed over time and then I fell madly in love with him and I'm still in love with him."
The "My Horizontal Life" author also discussed how her romance with Koy differs from her past relationships.
"Well, I'm an adult now, you know, for the most part," said Handler. "I had gone a long time without ever sitting down to contemplate or reflect. And therapy changed that. It gives you the gift of self-awareness. I would never have been open to dating Jo Koy unless I had had therapy."
She continued, "So what's different about it is, I'm in a different place. He's in a different place. He's a man and I'm a woman, whereas before I was a girl and he was a boy. It's been a great love story. I didn't really think I would get this."
Handler also acknowledged the public's "sweet" response to her relationship with Koy, saying that women have told her she's given them "hope" in relationships.
"I think that's true, and I want people to know that it's possible," she added.
Handler made her relationship with Koy Instagram official in September 2021. Since then, she has been sharing sweet photos of them on social media.
In one post, Handler wrote that Koy "renewed my faith in men" and encouraged her followers to not give up on finding love.
In December last year, Handler revealed during E!'s 2021 People's Choice Awards pre-show how she and Koy were able to transition from friends to lovers.
"I had to make the moves," she shared. "He's too polite and he's a gentleman. Finally, I said, 'Jo, what's the deal? Do you have a crush on me or don't you?' And then I moved in on him."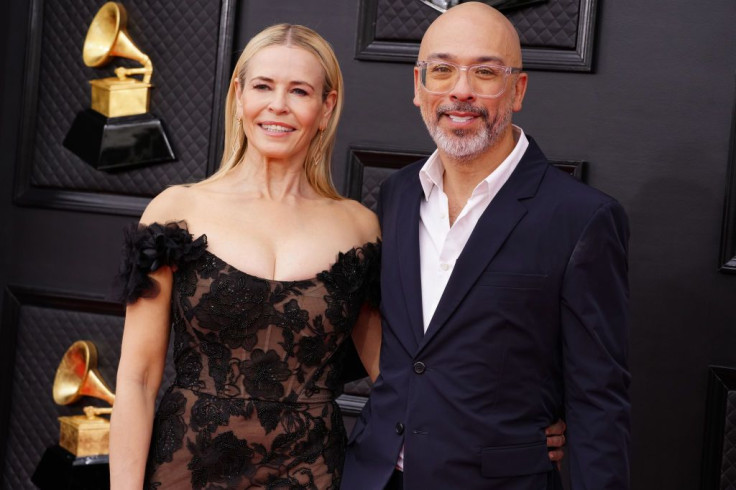 © Copyright IBTimes 2023. All rights reserved.