Chelsea Transfer News: Lewandowski, Llorente, Barkley, And Maguire Linked To Latest Rumors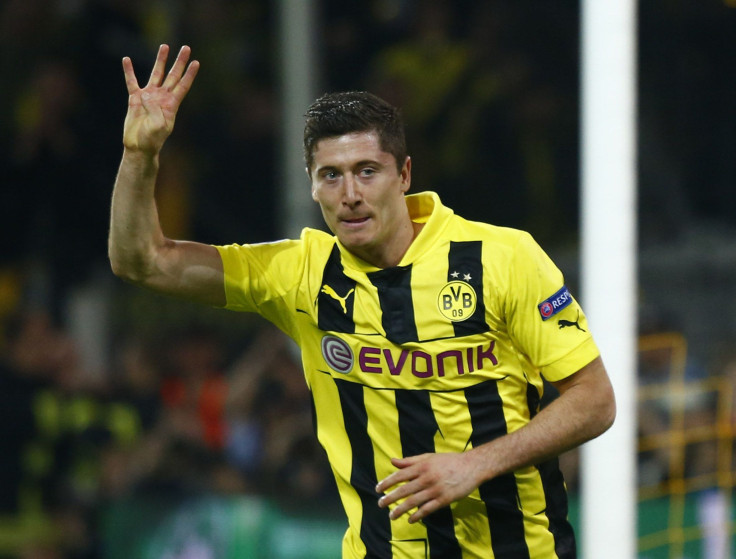 A shock 1-0 loss to Everton last weekend hasn't necessarily caused panic at Stamford Bridge, but if recent transfer news holds true, Chelsea are in line for several big moves in the winter and next summer.
The latest speculation begins with Borussia Dortmund striker Robert Lewandowski, a wildly talented player entering the prime of his career. The 25-year-old was thought to be on the move to Bayern Munich after this season, when his contract at Westfalenstadion lapses.
According to The Express, Lewandowski's agent has had recent discussions with Serie A titans Napoli. While Raffaelle Auriemma wouldn't discuss details during an Italian radio interview, he admitted to "contact" with Napoli chairman Aurelio De Laurentis.
In what is likely a negotiating tactic, Auriemma has in turn given Chelsea and Premier League rival Manchester United cause to believe Lewandowski is having second thoughts about an extended stay in Bundesliga. A transfer for the player responsible for 58 goals in under three years would likely surpass his market value of £34.5 million.
The Blues will also engage with United and several EPL teams for a trio of players in the coming months, according to reports from Metro.
Though he only recently arrived in Italy, forward Fernando Llorente is at the epicenter of a battle between Chelsea, Arsenal, and Tottenham. The 28-year-old Spaniard has struggled mightily with Juventus, playing behind Carlos Tevez and Mirko Vucinic, and another switch around New Year's may be on the horizon.
Meanwhile, Jose Mourinho has apparently had his eye on Everton's newest star Ross Barkley. The attacking midfielder earned his first cap for the English national team and is months away from his 20th birthday. Metro reported that a price of £20 million has already been set aside by Chelsea and United, with Mourinho reportedly lurking around Barkley earlier this summer.
Already drawing comparisons to former Everton star Wayne Rooney, Barkley has spent the last two years on loan with Sheffield Wednesday and Leeds, totaling 17 appearances and four goals.
Finally, it appears Mourinho's side may have found the heir to John Terry's backline throne. The Blues have targeted Sheffield United's Harry Maguire for a winter move, with the 20-year-old centre back considered the next great defender in the EPL. Scouts for the Blues have already suggested a £5 million fee according to Metro. But with the lofty, and perhaps premature, comparison to John Terry, Chelsea should have a battle on their hands for Maguire's services.
In two years, Maguire has racked up 100 appearances and six goals for Sheffield, and one cap for England's under-21 squad.
© Copyright IBTimes 2023. All rights reserved.