Chelsea Transfer News: Thomas Müller, Alex Teixeira In? Diego Costa, Radamel Falcao Out?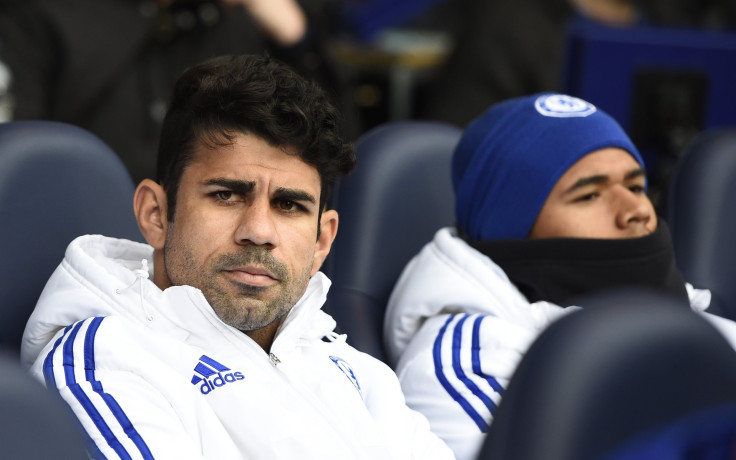 While Chelsea's form has stabilized, if not exactly dramatically improved, in recent weeks, controversy continues to surround the club. The latest issue surrounds striker Diego Costa, who in recent days has directed his famed niggling aggression not toward his opponents but at his own manager.
First there was a war of words during Chelsea's Champions League win over Maccabi Tel Aviv, precipitating him being dropped from the side for the first time in his Stamford Bridge career against Tottenham on Sunday. It was during that encounter that Costa, upon realizing he wasn't going to be brought on as a substitute trudged back to the bench and slung his bib in the direction of Jose Mourinho. The Chelsea boss played down the incident afterward, but it is clear there that not all is right between Mourinho and his misfiring striker.
Already there have been reports that the Spain international's time at Chelsea could be nearing its end, with Spanish publication Mundo Deportivo claiming that Atletico Madrid could be interested in bring back the striker they sold to the Premier League giants 18 months ago. But Chelsea's options are limited by the fact that, right now, they desperately need Costa. Against Tottenham, Mourinho opted to field Eden Hazard as a false nine, and he has shown little confidence in his other orthodox striker options, Radamel Falcao and Loic Remy.
Indeed, there have even been rumors in recent days that Chelsea are keen to bring an early end to Falcao's season-long loan from Monaco. The Colombian has scored just one goal since his arrival and hasn't made an appearance since October. However, Chelsea could struggle to relieve themselves of Falcao's considerable wages, with Monaco unsurprisingly thought to be unenthused by the idea of once again having to pay his salary. According to the Daily Mail, finding another club to take Falcao is also proving difficult.
Still, if Chelsea were to let either Falcao or Costa go, signing a replacement would be imperative. One player that has emerged prominently as a target in recent days is Shakhtar Donetsk's Alex Teixeira. The latest in a long line of Brazilian talents to develop at the Ukrainian giants, the 25-year-old is enjoying a sensational season. Despite being more of an attacking midfielder, he has scored an incredible 21 goals in 14 league games, as well as hitting three in five Champions League matches, despite Shakhtar enduring a torrid time in the competition. In a recent interview, Teixeira made it clear he was keen to move to Stamford Bridge, although admitted a transfer was unlikely in January.
"What I've heard and what my agent has said is that Chelsea, Juventus and PSG have made offers, but Chelsea and Juventus have gone further with the negotiations," he told Brazilian publication Lance! "These are three big clubs. Wherever I end up, I'll be happy.
"I'm glad to have received the proposal of Chelsea, it's a big club in Europe, but my agent deals with that. For January, I believe it is very difficult because it is in the middle of the championship. Shakhtar have said they will not release me in January, only at the end of the season. But I have a clear head."
A much bigger name has also been cited as a target for Chelsea on Tuesday. The Daily Mirror reports that Chelsea have set their sights on German World Cup winner Thomas Müller. The 26-year-old is, like Teixeira, not an orthodox striker, although he has played in the position and his knack for finding the back of the net is uncanny. This season he has scored 20 goals in just 20 appearances for Bayern Munich.
But there appears little chance of the German champions being prepared to sell a player they developed, and who is a key figure at the club. In the summer, Manchester United discovered just that when they had a huge bid, thought to be around 85 million euros (£60 million), rejected. Afterward, Bayern chief executive Karl-Heinz Rummenigge stated that they never considered selling Müller and that no offer would be good enough to make them change their stance.
© Copyright IBTimes 2022. All rights reserved.
FOLLOW MORE IBT NEWS ON THE BELOW CHANNELS