Chelsea Vs. Norwich: Live Stream Info, Prediction And Preview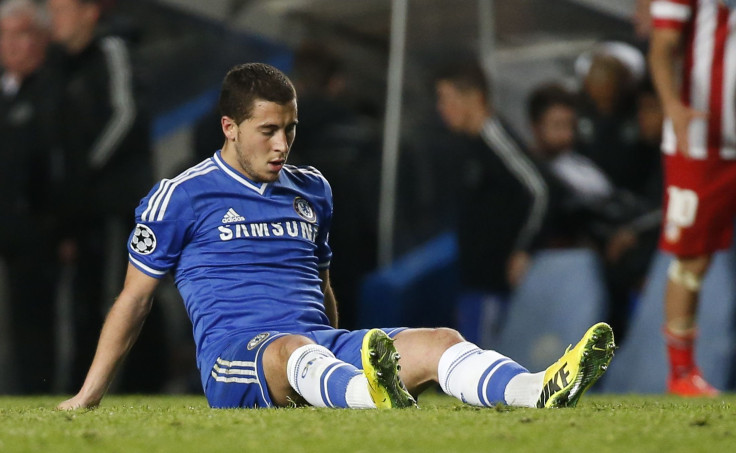 Jose Mourinho has criticized the commitment of Eden Hazard and his part in Chelsea's Champions League semifinal exit at the hands of Atletico Madrid.
Hazard twice left Atletico right-back Juanfran to run in behind him and set up goals in Chelsea's 3-1 defeat in midweek. Following the game, the Belgian appeared to lament Chelsea's reliance on counter-attacking play in an interview. While Mourinho initially claimed that those comments had been misinterpreted, he later went onto publicly call out his own player.
"When the comments come from a player like Eden it's normal because he's not the kind of player ready to sacrifice himself 100 percent for the team," Mourinho said in his press conference ahead of the Norwich match.
"Eden is the kind of player that is not so mentally ready to look back to his left-back and to leave his life for him.
"If you see the first goal of Atletico you completely understand where the mistake was and why we conceded that goal. The perfect team at the top level cannot make these kinds of mistakes."
After a victory at Liverpool that breathed fresh life into Chelsea's title chances, the defeat to Atletico has come as a major blow. Mourinho now faces ending a season in charge at Stamford Bridge empty handed for the first time.
Two points behind Liverpool and Manchester City, Chelsea need both of their rivals to slip up in order to claim the title. Chelsea must also do their bit by winning their remaining two matches. While a match at home to Norwich City on Sunday will have been seen as straightforward a couple of weeks ago, Chelsea now come into it having lost their long unbeaten home record in the league under Mourinho against Sunderland and then following it up by making it two defeats on the bounce against Atletico.
Norwich are also the type of side against which Chelsea have had difficulties this season and where Hazard's suggestion that they struggle when forced to take the initiative has been borne out. Mourinho's side have also lost to Aston Villa and Crystal Palace in the past six matches, opponents who, like Norwich surely will, had a game plan to keep things tight and frustrate Chelsea.
Whether Norwich are capable of doing it successfully, though, is another matter. Despite the sacking of Steve Hughton and appointment of Neil Adams, Norwich have now lost five matches in a row. A 4-0 defeat at Manchester United last week finally saw their poor form drop them into the relegation zone. Meanwhile, scoring goals has continued to be a problem, with Norwich finding the net in just one of their last five games.
At the end of a week in which his defensive commitment has been criticized, Hazard could well be critical in his role as one of the few Chelsea players capable of providing the inspiration to break through a stubborn defense.
Prediction: Chelsea 2-0 Norwich
Where to watch: The Barclays Premier League clash will kick off at 11 a.m. ET. Coverage will be provided by NBCSN, with a live stream available on NBC Sports Live Extra.
© Copyright IBTimes 2023. All rights reserved.