Chen Guangcheng: From Legal Activist In China To Legal Fellow In US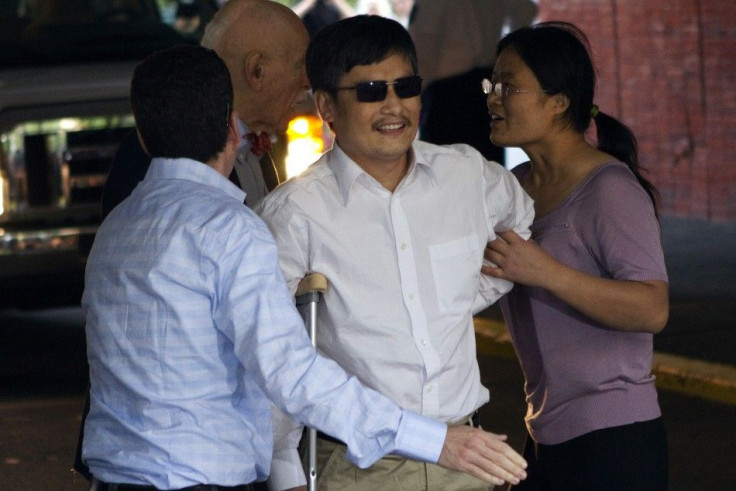 Capping an extraordinarily eventful four weeks, Chen Guangcheng -- a blind attorney known as the Barefoot Lawyer -- flew to the U.S. from China on Saturday.
Chen began the day in a Beijing hospital and ended it in a New York apartment building, according to multiple media reports.
After traveling to Newark (N.J.) Liberty International Airport from Beijing Capital International Airport, Chen and his family -- wife Yuan Weijing and their two children, ages 8 and 6 -- were taken to New York University campus housing in the Greenwich Village section of the city, the Associated Press reported.
It is believed Chen, a self-taught legal activist in China, will be attached to the NYU School of Law, where a fellowship at the US-Asia Law Institute has been offered to him.
During Chen's career as a dissident, he campaigned against forced abortions under China's one-child policy. He was jailed for four years beginning in 2006, and he was placed under house arrest after his release in 2010.
Bob Fu, president of the U.S. activist group China Aid and a key supporter of Chen, told BBC News that the human-rights activist is planning to stay in New York for two to three years.
Arriving at NYU to the sound of cheers, Chen noted China had generally used restraint in dealing with his recent situation, but pointed out he continued to be concerned about ongoing reprisals against family members still in the country, BBC News reported.
Acts of retribution in Shandong have not been abated, and my rights to practice law have been curbed -- we hope to see a thorough investigation into this, Chen said.
Nonetheless, AP reported, the activist expressed gratitude to the governments of China and the U.S.; the embassies of Canada, France, and Switzerland; and his supporters.
For the past seven years, I have never had a day's rest, Chen said via a translator, so I have come here for a bit of recuperation for body and in spirit, AP reported.
Chen's recent odyssey began when he first escaped from house arrest in Linyi village in Shandong province on April 22 and then made his way to the U.S. embassy in Beijing.
For a time, it appeared the Chen affair might have an effect on the U.S.-China Strategic and Economic Dialogue conducted in Beijing on May 3-4, but the diplomats handled it -- er, uh - diplomatically, and the two countries apparently found a pretty good solution to a pretty bad problem.
© Copyright IBTimes 2023. All rights reserved.
FOLLOW MORE IBT NEWS ON THE BELOW CHANNELS