Chester Bennington Laid To Rest In Private Funeral Amid Suicide Conspiracy Theories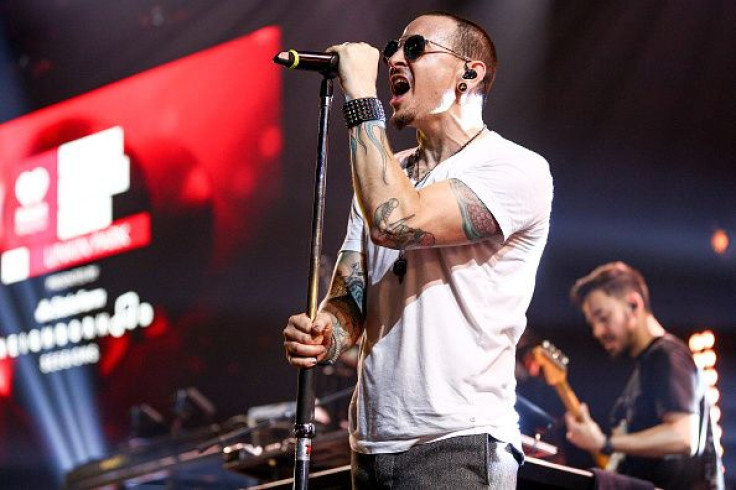 Chester Bennington can finally be at peace. Over a week after the Linkin Park frontman committed suicide, he was laid to rest in a private funeral in California on Saturday, July 29.
Bennington's funeral was held in Rancho Palos Verdes and was attended by 200 of the singer's friends and family members, Entertainment Tonight reported. One of the people who came to say goodbye to Bennington, who was 41 when he died of suicide by hanging in his home, was rapper Blackbear. On his Twitter, the latter shared a photo of the funeral's program and a yellow wristband that read, "Chester Bennington," calling the service "beautiful." For Bennington, he wrote in the caption, "a lil piece of u has & will be in every song i sing on stage forever."
READ: Chester Bennington's Suicide 'Wasn't A Good Choice,' Says Buckcherry Frontman Josh Todd
Former Of Mice and Men frontman Austin Carlile also came to pay his respects. He posted a photo on his Instagram of the program and the pass to enter, which was designed to look like VIP concert passes. "The service today was beautiful. Thank you Linkin Park, thank you Chester. For everything," he captioned the image.
Julien-K and Dead by Sunrise paid tribute to Bennington on their social media page as well. The bands shared a Facebook post of them holding up posters and a t-shirt in honor of the late singer. "Chester we love you so much. Our thoughts, love, and prayers to [his wife] Talinda, the kids, and the LP family. We love you," they wrote on their post.
Some of his pals reportedly performed musical tributes for Bennington during the funeral as a full stage, including a drum kit, had been set up, TMZ confirmed.
Meanwhile, Bennington's widow, Talinda Bennington, recently opened up the singer's death and how she and their children have been coping through the tragedy.
"One week ago, I lost my soul mate and my children lost their hero—their Daddy," she wrote in a statement to E! News. "We had a fairytale life and now it has turned into some sick Shakespearean tragedy. How do I move on? How do I pick up my shattered soul? The only answer I know is to raise our babies with every ounce of love I have left. I want to let my community and the fans worldwide know that we feel your love. We feel your loss as well. My babies are so young to have lost their daddy. And I know that all of you will help keep his memory alive."
In her message, Talinda, who married Chester in 2006 and shares three children with him, described her late husband as a "bright, loving soul with an angel's voice."
"And now he is pain-free singing his songs in all of our hearts," she continued. "May God bless us all and help us turn to one another when we are in pain. Chester would've wanted us to do so. Rest in peace, my love."
Chester is survived by wife Talinda and their children — Tyler Lee and twins Lila and Lily. He also shares sons Isaiah and Jamie with Elka Brand and Draven Sebastian with Samantha Marie Olit.
© Copyright IBTimes 2023. All rights reserved.