Chicago July 4th Shooting: Father Recalls Gunman Opening Fire At Him From 10 Feet Away
KEY POINTS
Shawn Cotreau was on a visit from Boston when he witnessed the shooting
His family had chairs out and were watching the parade when the gunman opened fire
Robert Crimo, 22, was arrested for killing at least six in the mass shooting incident
Highland Park, Illinois -- A 46-year-old father recalled the harrowing moment he saw a gunman open fire from a rooftop, killing at least six people and injuring over two dozen people, during the Highland Park parade in Illinois.
The father was about 10 feet away from the gunman before he and his family ran for their lives and survived the deadly shooting incident.
Shawn Cotreau, 46, and his wife, Jacqueline Cotreau, had traveled with their kids from Boston, Massachusetts to visit family in Highland Park when the mass shooting incident took place.
The father said the July 4th parade down Central Street was supposed to be the highlight of the trip for his three children, aged 2, 9, and 11.
"They had the parade again this year after canceling it the last two, so we had our chairs out early, in our regular spots," Shawn told People. "You'd never imagine it would turn into something like this."
The family set up their chairs and had just watched a band pass by when they began hearing sharp pop sounds during the parade. Shawn said he initially thought it was firecrackers, according to the New York Times.
He "looked back, saw the gun, and I'm staring at this guy shooting at me," the father told People.
"It was tough for me to see him," he went on to say. "He was up on the roof, and had the rifle in front of him. I saw most of the gun. Then, we saw the bullets hitting the tree in front of us, which was insane."
Although Shawn took a while to realize what was happening, his wife managed to spring into action and immediately screamed for him "to get up and get running."
"She was amazing," he said about Jacqueline's reaction. "She reacted immediately."
Grabbing one of his three children in his arm, the father began sprinting with his family to find cover. They ran until they found a concrete wall that the entire family could hide behind.
"We waited for the gunfire to stop before we headed to my in-laws [who live] two blocks away," he told the outlet. "It's just amazing to me that this happened."
Shawn said the shooting has left his kids terrified.
"We're sheltered in place in the house right now," he added. "My kids, they're shaken. They don't want to leave the house."
The suspect, Robert Crimo, 22, was arrested for allegedly firing into the holiday crowd with a high-powered rifle.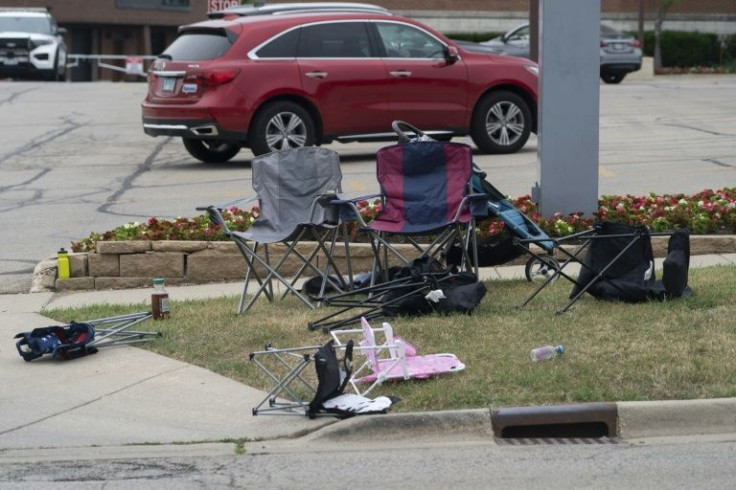 © Copyright IBTimes 2023. All rights reserved.