China Inflation Dips, Yet Policy on Pause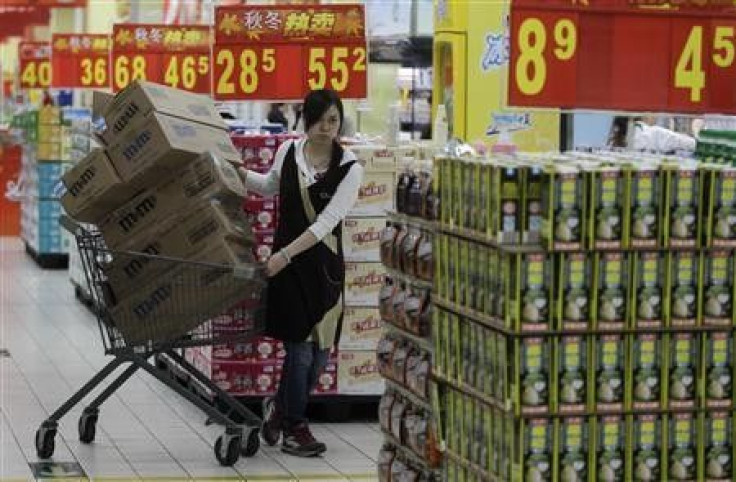 China's consumer inflation dipped to 6.1 percent in September, retreating further from three-year highs, although stubborn food price pressures will deter the central bank from loosening its policy reins anytime soon.
A slowdown in price rises would be welcomed by policymakers as confirmation that a flurry of increases in interest rates and bank reserve requirements is working, just when China's economy is showing increasing strains from the global downturn.
Since inflation is still close to the three-year peak of 6.5 percent hit in July, few analysts believe China will follow the likes of Brazil, Indonesia and Singapore and ease policy in the near-term, barring a marked deterioration in Europe's debt woes.
Indeed, September's data for bank lending and money supply, controlled by China to manage inflation, is proof of Beijing's tight monetary policy.
The slowdown in the CPI last month is not drastic enough to reduce inflationary expectations, and it is still too early to confirm an easing trend in price pressures, said Qiao Yongyuan, an analyst with CEBM in Shanghai.
The central bank is more likely to keep its current monetary stance unchanged and will wait for data in coming months to judge the direction of policy, Qiao said.
The broad M2 measure of money supply rose 13 percent in September from a year ago, less than forecast and the weakest clip since October 2001.
Yuan loans lent by banks also came in weaker than expected at 470 billion yuan ($73.6 billion), lows not seen since December 2009.
And in the latest sign that the world's No. 2 economy is shuddering from Europe's debt crisis, its massive foreign exchange reserves suffered a drop of nearly $61 billion in September as the euro skidded and hot money flowed out.
The fall in reserves was the biggest ever for China and left the stockpile -- the world's biggest -- standing at $3.2 trillion at the end of the third quarter.
There was a big drop in stock markets, and global investors repatriated some money from emerging countries including China, Benny Lam, an economist at CCB International in Hong Kong said of the fall in reserves.
But this is temporary.
STUBBORN INFLATION
The dip in inflation in September was right in line with a poll of economists' forecasts and lower than August's reading of 6.3 percent.
Food price pressures remained strong, however, rising 13.4 percent from a year earlier, unchanged from the pace in August's data. Non-food inflation eased to 2.9 percent from 3.0 percent in August, the data showed.
China's producer price index in September came in below market expectations with a 6.5 percent rise from a year ago, compared with August's 7.3 percent.
The data will come as a relief to the Chinese government, which now faces a deadlock in policymaking. It will fine-tune policies in December, said Shen Jianguang, an economist with Mizuho Securities Asia in Hong Kong.
China's ruling Communist Party usually holds an annual agenda-setting economic policy conference in December.
Headline inflation may have fallen for two months running, but other evidence shows that the battle is far from won, analysts said. Policymakers, worried about the potential for price rises to fuel social unrest, are sure to remain guarded.
Right now, they are not sure that inflation is slowing just (based on) one month's number. The policy will be on hold for one or two more months, said Shen.
A central bank survey released in September showed inflation expectations among urban Chinese rose in the third quarter.
Monthly changes in the consumer price index suggested price pressures actually picked up in September, rising by 0.5 percent compared with 0.3 percent in August.
The government pays particular attention to prices of pork, the staple meat for many ordinary citizens griping about inflation. Pork prices were 43.5 percent higher in September than a year earlier, barely easing from a 45.5 percent rise in August.
However, residential costs, which measure rents, mortgages and power bills, cooled to 5.1 percent, the slowest rise since October 2010.
POLICY ON HOLD
After lifting interest rates five times and banks' reserve requirements nine times since October 2010, Beijing has put policy tightening on hold as a slowdown in Europe and the United States threaten global growth.
On Friday, Singapore eased its monetary policy, saying the outlook for the global economy has deteriorated sharply. That followed rate cuts in Brazil and Indonesia in recent weeks.
China's economic growth has been slowing down this year alongside increasing concerns that the developed world may be heading into a recession.
Data on Thursday showed China's import and export growth cooled last month as the annual pace of exports to the troubled European Union in September more than halved from August.
The government has already taken some baby steps to support the economy. On Wednesday, it unveiled measures to support cash-starved small businesses, which account for 75 percent of employment.
Shut out of the lending market by Beijing's stringent anti-inflation credit curbs, many small cash-starved firms have resorted to borrowing from China's thriving shadow banking sector at exorbitant rates.
A unit of China's sovereign wealth fund is buying Chinese bank shares in the midst of concern about how they will be impacted by a mountain of local government debt.
Some analysts say China may relax monetary policy if push comes to shove, although milder moves such as relaxing credit restrictions and lowering banks' reserve requirements are likely to come before a more drastic rate cut.
The central bank may even see fit to ease policy before the end of the year, perhaps starting with cuts to very high reserve requirements, though it will be keen to keep a grip on lending growth, said George Worthington, the chief Asia Pacific economist for IFR Markets.
Rate cuts are unlikely to be on the agenda barring a renewed global slump given the relatively modest tightening on that front since the last crisis in 2008/09.
Some analysts say China's rapidly growing shadow banking sector also indicates that Beijing's credit controls are looser than what meets the eye, thereby lessening the need for any forceful relaxation in policy for now.
© Copyright Thomson Reuters 2023. All rights reserved.
FOLLOW MORE IBT NEWS ON THE BELOW CHANNELS