China Pollution: Beijing Officials Say Air Quality Improved In 2015, Experts Cite Weather Patterns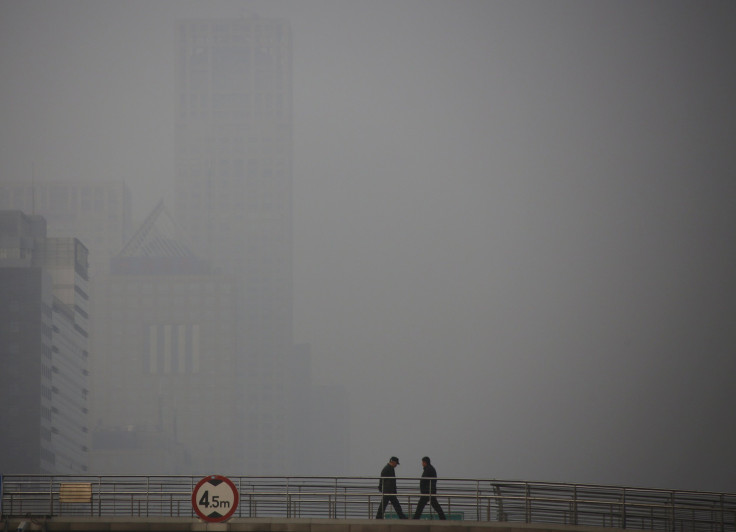 The Chinese government boasted Monday an improvement in Beijing's air quality in 2015, but environmental experts said the progress may have more to do with weather patterns than a decline in emissions. The city issued two red smog alerts in December, which indicate the highest level of danger, prompting temporary restrictions on vehicle use and factory production, as well as the closure of schools.
Beijing's Municipal Environmental Protection Bureau said the average concentration of PM2.5 particles, an air quality measurement of small particles that can lodge deep inside lungs if inhaled, dropped 6 percent to 81 micrograms per cubic meter from its average of 86 in 2014, the Financial Times reported. The standard for safe air, set by the World Health Organization, is an annual mean of 10 micrograms.
The "number of days of [the] most serious PM2.5 pollution is falling each year," the bureau announced Monday.
But Ma Jun, who heads the Institute of Public and Environmental Affairs, said weather factors like wind and humidity may have affected the air's quality. Beijing's air quality may look as though it improved in the first 10 months of 2015, he said.
"But I'm not sure whether that's the result of fewer emissions," he said. "Beijing's air quality is affected more by that of nearby regions than before."
China's CO2 Emissions | FindTheData
Ma added that the red alerts in December were caused because Beijing recently lowered the threshold required to prompt a red alert. Before last March, the city required a forecast of 72 hours of an air quality index indicating "severe pollution," but now an index reading that indicates "heavy pollution" will suffice.
"I think before there had been some reluctance to do it because it's highly challenging to organize this, and it will have a high social and economic cost," he told the Associated Press. "There has been a changing mindset on this."
© Copyright IBTimes 2022. All rights reserved.
FOLLOW MORE IBT NEWS ON THE BELOW CHANNELS