China Reports First Case Of H10N8, A New Strain Of Bird Flu Infection In Humans; Woman's Death Could Be Related, Reports Say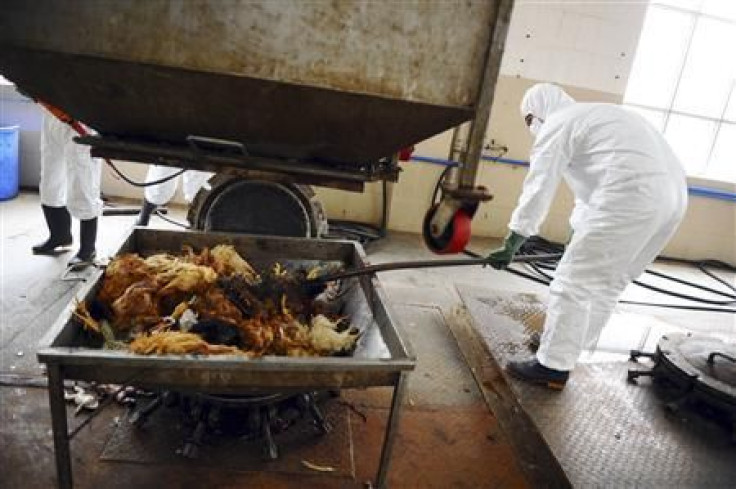 China confirmed the first case of infection from H10N8 -- a strain of bird flu previously not reported in humans -- in the country's Jiangxi province on Wednesday.
Provincial health department officials said that a 73-year-old woman died of respiratory failure on Dec. 6, who was later confirmed to have been infected by H10N8, one of the 15 known bird flu strains undetected in humans before, Xinhua reported.
Officials did not specify whether the woman's death was due to the infection except to say that the woman was admitted to a hospital in Nanchang, the capital city of Jiangxi province, with severe pneumonia, and was later diagnosed with a neuromuscular disorder and suffered a heart attack, according to Xinhua. Nanchang, a city of about five million people, lies about 450 miles to the southwest of Shanghai, which is reportedly China's largest city by population.
The woman apparently contracted the virus after visiting a live-poultry market, and authorities said that the woman's relatives who were in close contact with her are being monitored, but so far have shown no symptoms of being infected by the virus.
The H10N8 strain was discovered in wild birds in 2007 according to a 2011 study published in Virology Journal, and another study, published in the Journal of Virology, found the strain in a duck in a live-poultry market in southern China in January 2012.
H10N8 is the third strain of bird flu found to have made the jump from birds to humans. The other two bird-flu strains -- H5N1 and H7N9 -- have been reported to have infected humans and caused deaths in China and other parts of the world.
"It has never been detected in humans before," Yuen Kwok-yung, a microbiologist and an expert in bird flu at the University of Hong Kong, told Hong Kong Cable TV. However, experts point out that this could be a rare incidence and chances of the strain causing a pandemic are rare.
© Copyright IBTimes 2023. All rights reserved.