China Unveils High-Speed 'Ice Train,' But Is It Safe?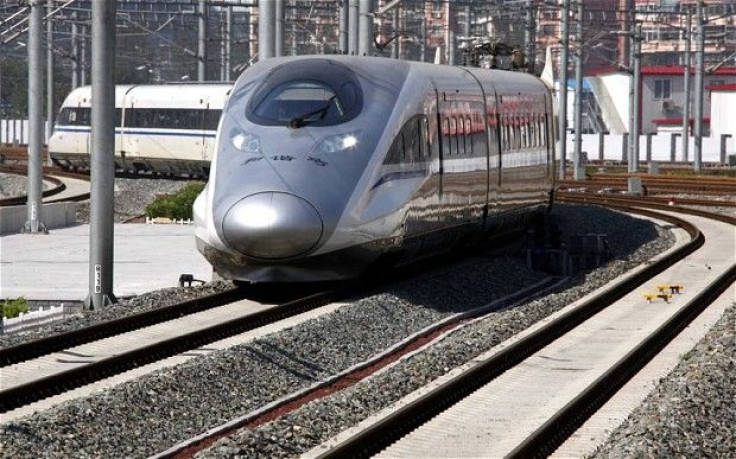 China expects 10,000 miles (160,000 kilometers) of high-speed train tracks to link 24 cities by 2020, but its latest feat, a high-speed "ice train," may be its most ambitious plan to date.
On Monday, the People's Republic tested what it says is the world's first alpine high-speed rail line, which threads across the country's three northeastern provinces from Harbin to Dalian. The new line is expected to reduce travel time between the two cities from nine hours to just four as passengers travel 570 miles (920 kilometers) aboard weather-proof CRH380B bullet trains, which can accommodate temperatures that dip to as much as minus 40 degrees Celsius (-40 degrees Fahrenheit) in the winter, and rise to as much as 40 degrees Celsius (104 degrees Fahrenheit) in the summer.
China's heavily populated northeastern provinces are a key industrial base, and the high-speed rail is intended to ease transportation in the region. Both Harbin and Dalian are popular vacation destinations, and the rail link could boost tourism to the cities.
Harbin is noted for its Russian legacy and winter Ice Festival, while Dalian is a scenic port city with popular beaches.
China's state-run Xinhua news agency reports that the line's originating station in Harbin, the capital of Heilongjiang province, will be able to handle up to 7,000 passengers per hour in peak periods, and the train is expected to stop at 24 stations in 10 cities when it begins full operations by the end of the year.
Engineers began construction of the line in 2008 and have said that trains will be able to run at an average of 217 mph after initial safety tests are complete.
"We researched the experiences of high-speed railway line construction in relatively cold areas of Germany and Japan and took reference from road, water conservancy and electric supply projects in frigid areas," Zhang Xize, chief engineer of the Harbin-Dalian high-speed railway program, told China Daily.
Xize said the railway is fitted with special facilities to remove snow and ice from the line and protect its power supply from the elements.
"We have used all the measures that we can come up with to ensure the safety of this project," he said.
Critics, however, remain skeptical.
Two high-speed trains collided outside of Wenzhou last July after the first train lost power. The accident killed at least 40 people and injured almost 200 others.
China scaled back its high-speed rail projects for a time, but the number of approved projects is once again on the rise as the nation seeks to boost its economy in what National Geographic investigative reporter Ian Johnson has called "an engineering blitzkrieg meant to awe the Chinese people and show off the nation's new industrial might."
"Less impressive have been the costs -- financial and human," Johnson reports. "Last year, two events happened that continue to shake the railway system and China as a whole."
The first event, he says, was the crash outside Wenzhou, which had left many Chinese wondering if the development-at-all-costs strategy had made them simply statistics and numbers. The other event was the detention of China's once-powerful railway minister, Liu Zhijun, "an old-style communist central planner who rolled out the high-speed network like a general using human-wave tactics."
In a plan rife with corruption, Zhijun deployed thousands of Chinese workers to blast open mountains, bridge canyons and pave over the countryside.
But beyond the corruption, even China's own state-controlled media began to question the high speed rail program's safety last year. And if a train that traversed an agreeable terrain could lose power and crash, what's to stop a train traveling over ice and snow at 217 mph from doing the same?
© Copyright IBTimes 2023. All rights reserved.
FOLLOW MORE IBT NEWS ON THE BELOW CHANNELS