China's Economic Growth Slowest in 3 Years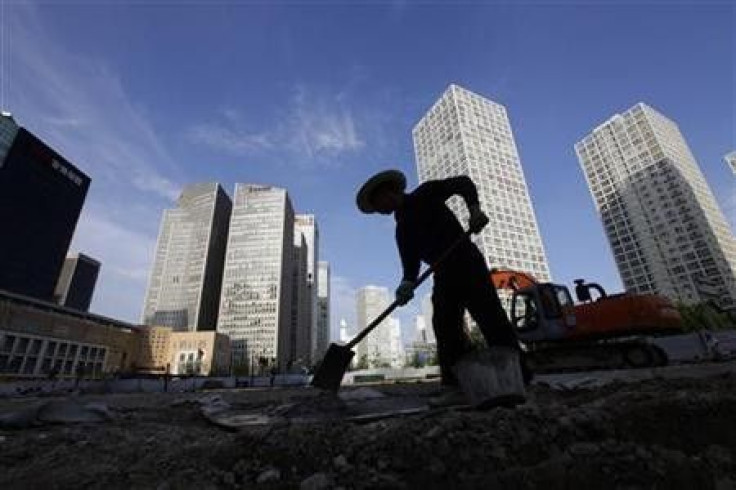 China's growth rate slowed for a sixth successive quarter to its slackest pace in more than three years, highlighting the need for more policy vigilance from Beijing even as signs emerge that action taken so far is beginning to stabilise the economy.
Year-on-year growth of 7.6 percent in the second quarter was a whisker above the government's official 7.5 percent full year target and dragged the first half average down to 7.8 percent - below the 8 percent level that in previous downturns has triggered a robust response from policymakers.
The GDP number, released in a flurry of Chinese data on Friday, was roughly in line with investor expectations.
The trajectory of the economy is crucial for money managers facing a slowdown not only in China, the world's second-largest economy, but anaemic growth across the BRIC grouping of major emerging economies - Brazil, Russia, India and China - which combine as the biggest marginal generators of global growth.
I would say probably the worst is over and we are going to see some stabilisation and even improvement in growth in the next quarter, Sun Junwei, China economist at HSBC in Beijing said, citing improvement in quarter-on-quarter growth and broad stability in June data for fixed asset investment, industrial production and retail sales.
It pretty much depends on what will be the strength of further easing, but I think the chance is good that (policymakers) are willing to respond to this growth slowdown.
Beijing's response to the slowdown so far, sticking rigidly to a mantra of fine-tuning and a series of tweaks to monetary and fiscal policy over the last eight months, has left the economy on track for its slowest full year of growth since 1999, raising the risk for some investors that the government is behind the policy curve.
At this moment, my focus is not how deep the fall was for the economy in the second quarter, but how long it's going to stay in a hole, Dong Tao, China economist at Credit Suisse in Hong Kong, said. My view is that the Chinese economy will be in an L-shape (trajectory) for a while.
Two cuts to benchmark interest rates in the space of a month - the latest just last week - and liberalisation moves that permit discounts to borrowing costs of up to 30 percent more, are signs to others that policymakers will do all they can to underwrite growth.
Sheng Laiyun, spokesman at China's statistics bureau, said the data signalled that the economy was stabilising in Q2 and that growth in the first half was in line with expectations. The Q2 forecast in the benchmark Reuters poll was 7.6 percent.
Financial markets took the data in their stride, with Hong Kong shares gaining slightly on relief that it wasn't any worse, a sentiment echoed among oil traders who nudged Brent crude oil down a touch, while the China-sensitive Australian dollar edged up from session lows.
SOFT LANDING, SERIOUS PAIN
Overall, this is a soft landing, but we can see that the Chinese economy is undergoing serious pain, said Xianfang Ren, an economist at IHS Global Insight in Beijing.
I have 80 percent confidence that the economy will pick up in the third quarter as we have been in a slowdown for six consecutive quarters now. However, if the economy does not show an upturn in the next few months, factories will probably have to lay off workers and that will hit employment.
Jobs are a crucial variable for China's Communist Party leadership, especially in the run-up to its once-a-decade handover of power - a showpiece event scheduled for the autumn that the government is determined to ensure takes place against a backdrop of social stability and economic prosperity.
It was the loss of 20 million jobs in a matter of months at the end of 2008, as the global financial crisis dragged world trade to a virtual standstill, that analysts say triggered a 4 trillion yuan stimulus programme from Beijing.
Inflation and trade data earlier this week showing fast-easing consumer prices, outright deflation in producer prices and import growth at less than half the rate expected in June sent a bearish shiver through financial markets.
Employment is one of the few indicators not yet signalling a return to the low points of 2008/09, with economists tending to believe firms are holding back on job cuts in anticipation of a rebound in growth that could leave them woefully short of skilled staff given China's broad labour market tightness.
But for firms to retain that faith in a near-term rebound will require more policy action to support growth, analysts say.
Companies on at least three continents have blamed slowing Chinese growth for their worsening performance.
This week alone, British fashion brand Burberry reported a decline in its China sales growth, U.S. chipmaker Advanced Micro Devices warned of disappointing Q2 revenue because of softer than expected sales in China and Europe and China Southern Airlines said its H1 net profit would likely fall in part on slower domestic growth.
China's automobile sales growth lost further momentum in the first half, figures on Thursday showed, as the country's slowing economy sapped consumer sentiment, with potential buyers even resisting big discounts and promotions from automakers such as Ford and Toyota.
MORE AGGRESSIVE ACTION
We do expect Beijing to be more aggressive in accelerating start-up of new projects and constructing existing projects, and believe that Beijing (will) be much more serious on social housing, Ting Lu, China economist at Bank of America/Merrill Lynch in Hong Kong, said.
Lu also expects further cuts to banks' required reserve ratios - already lowered by 150 basis points since November 2011 to release an estimated 1.2 trillion yuan for lending - and two more 25 basis point cuts to benchmark interest rates before the end of the year.
Other data released alongside GDP revealed fixed asset investment growth was 20.4 percent in the year to June versus the 20.1 percent forecast in the benchmark Reuters poll.
Fixed asset investment has been the key driver of economic expansion in China for a decade and is a major risk factor for investors watching its rate of growth ease back from 25 percent plus to around 20 percent on average so far this year - especially as the government's stated aim is to reduce its contribution to growth as it rebalances the economy.
Retail sales in June were up 13.7 percent on a year ago versus May's 13.8 percent and industrial output was weaker than expected, growing 9.5 percent versus expectations of 9.8 percent, while power output was flat.
The statistics bureau said domestic consumption contributed 4.5 percentage points to the first half growth rate of 7.8 percent and capital spending added 3.9 percentage points, while exports cut 0.6 percentage points from total growth.
It also said that real estate had restrained growth, but echoed consistent comments from Premier Wen Jiabao that now was not the right time to ease controls on the property market, introduced to curb rampant speculation that have pushed home prices well beyond the reach of many middle class urban Chinese.
China's real estate investment growth slowed sharply in the first half at 16.6 percent versus an annual rise of 32.9 percent in the same period a year ago - a clear negative for the 40 other sectors of the domestic economy which it directly impacts.
But property sales swung into positive growth in June for the first time in eight months and a 6.9 percent annual growth in China's property sales revenues in June - snapping a seven-month losing streak - both bode well for recovery prospects.
Economists remain divided about when China's economy will reach the bottom of its current cycle, with many preparing to take the scalpel to full-year forecasts which, according to the last Reuters consensus poll in April, call 2012 growth at 8.4 percent.
The Asian Development Bank cut it full-year China growth expectations for 2012 to 8.2 percent in new forecasts published on Thursday, down from the 8.5 percent it had estimated in April.
© Copyright Thomson Reuters 2023. All rights reserved.