China's Gold Fever Rises, Showing No Signs Of Abating As 'Golden Week' Holiday Kicks Off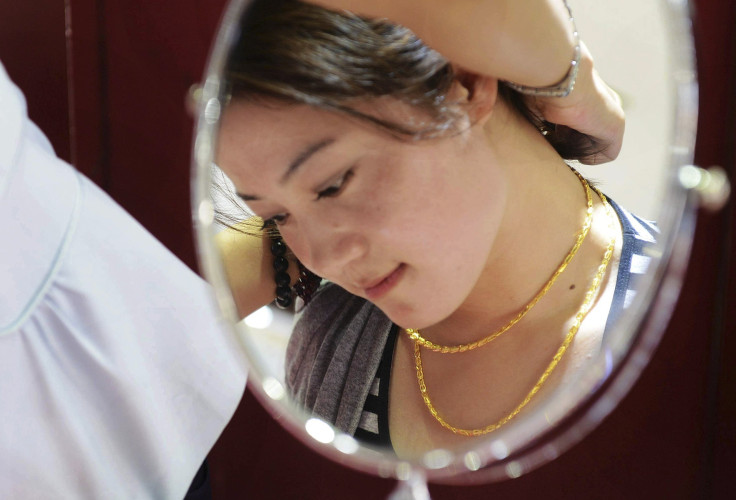 Fresh market statistics from Thomson Reuters GFMS research and exchange operator CME Group paint a remarkable portrait of Chinese demand for gold in 2013, even as the metal has seen historic price declines and volatility this year.

Gold prices fell almost 30 percent from January to June 2013, the largest decline since 1983, according to the CME Group OpenMarkets report.

Despite that:

- Trading of spot contracts on the Shanghai Gold Exchange more than doubled in the first half of 2013.

- Premiums in China hit an all-time high of $56/oz. on May 13, against the 2012 average of $6.5/oz. Compare that to premiums in India, which hit $40/oz. in September, even as record import taxes of 10 percent sparked gold smuggling

- Gold imports into Hong Kong, the main conduit for gold to China, rose 162 percent from the year before, for the first seven months of 2013.

- Chinese jewelry production hit a record 345 metric tons for the first half of 2013.

Additional charts from Thomson Reuters' GFMS flesh out further details, including sustained Hong Kong gold imports and physical demand, despite unpredictable gold prices. Notably, gold prices rose an average 10 percent yearly over the past decade.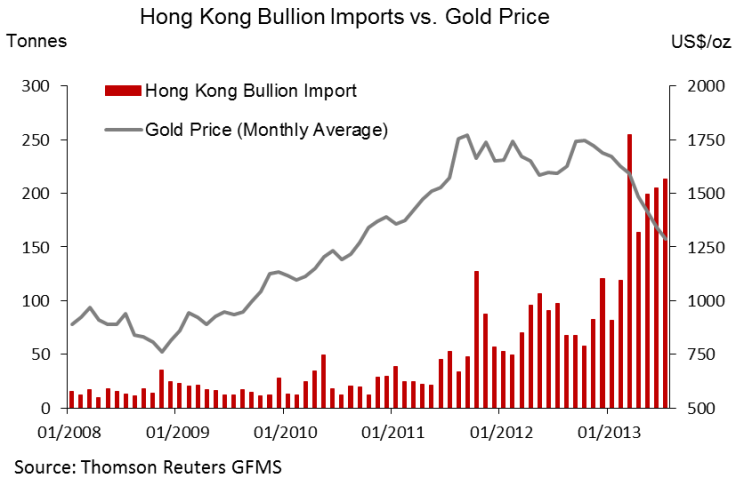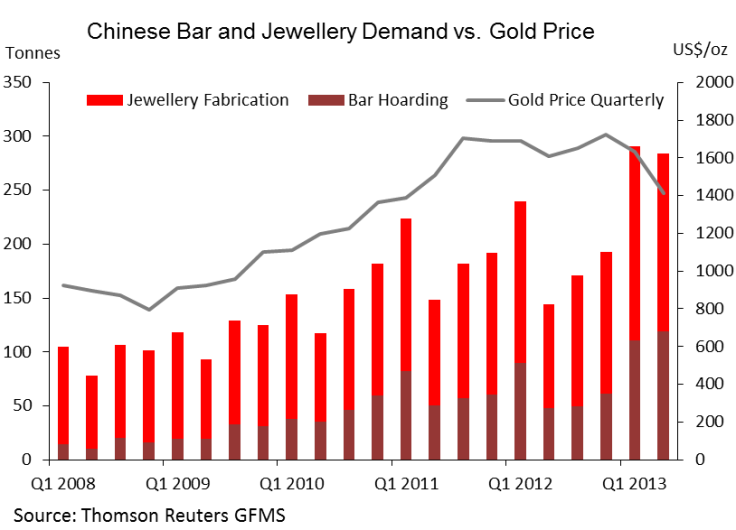 One traditional narrative on why Chinese consumers buy gold is that it is used heavily for weddings, festivals and gifts. But there are also less-cultural factors, the OpenMarkets report notes.

Gold as a secure haven of wealth and protection against inflation is one motivation, according to the Reuters GFMS research. Rising wealth and urbanization, along with scarce investment options in the countryside, also promote gold hoarding, predominantly by women, according to the research.

Similarly, tight government control over real estate, low interest rates and poor stock markets turn gold into an attractive alternative.

As China kicks off its so-called Golden Week, a weeklong national holiday, gold demand is expected to stay strong.

Sadly, the Shanghai Gold Exchange is actually closed for seven days from Oct. 1-8, but Chinese gold bugs often get their fix in Hong Kong, where there were nearly 1 million mainland visitors in October 2012, up 25 percent from 2011.

Gold prices are down 25 percent for Chinese consumers, relative to Golden Week 2012, reported Bullion Vault last week.

China is on track to beat India and become the world's largest consumer of gold this year, although the title will remain hotly contested in years to come. Chinese "aunties" lead the charge, depleting inventories of jewelery stores.

Chinese gold output also rose by 11.5 percent for the year to date, compared to 2012, said the China Gold Association last week. China was the world's top gold-producing country in 2012, according to a U.S. government survey.
© Copyright IBTimes 2023. All rights reserved.