China's 'Tesla Challenger' Xpeng Acquires DiDi's Smart EV Arm After Volkswagen Deal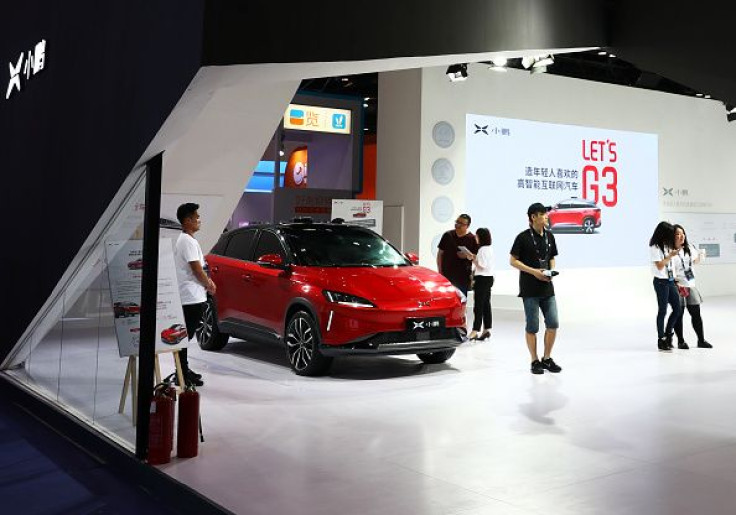 KEY POINTS
The companies will partner under the new brand 'Mona,' which has a tentative launch in 2024
Xpeng and DiDi also said they will explore possible cooperation in autonomous driving
Xpeng also struck a strategic deal with Volkswagen last month
Chinese electric vehicle company Xpeng, which has been dubbed a Tesla "challenger," is acquiring ride-hailing giant DiDi's smart EV unit for $744 million, marking another milestone in the Chinese firm's car production deal efforts.
Xpeng said it was looking to launch a new EV brand next year, which is being developed under the project name "Mona." Under the strategic partnership with DiDi, the latter will "provide support from its mobility ecosystem for the 'Mona' project with access to its nationwide shared mobility market," as per a press release Monday.
He Xiaopeng, chairman and CEO of Xpeng, said the partnership is expected to boost Xpeng's scale and accelerate the adoption of the company's smart EV technologies in the mass market segment. The two companies will also explore potential cooperation in autonomous driving, He said.
For DiDi's part in the collaboration, the ride-hailing company's chairman and CEO, Cheng Wei, said they are dedicated to promoting shared, electric, and smart mobility. "We will continue to deepen our cooperation with Xpeng in multiple areas, driving transformation of the transportation and automotive industries."
After the announcements, Xpeng shares rose more than 13% during Monday morning trading.
News of the partnership with DiDi came weeks after Xpeng struck a "long-term strategic" deal with Volkswagen. The German auto titan will invest approximately $700 million in Xpeng, which is equivalent to a nearly 5% stake in Xpeng. The parties will also jointly develop two B-class battery EV models that will be sold in the Chinese market under the Volkswagen brand.
The companies will also look into further collaboration on future EV platforms, software technologies, and supply chains. "The Volkswagen Group and Xpeng each brings in highly complementary strengths into this long-term strategic partnership," He said at the time.
The recent partnership deals came about two years after Xpeng delisted from the New York Stock Exchange, just months after it went public in 2021. It then made a dual-primary listing in Hong Kong.
Xpeng has been touted as a Tesla challenger due to its significantly lower pricing, including its P5 electric sedan, which starts at $24,670 compared to the Tesla Model 3 sedan which starts at $38,700 in China. It could also be worth noting that China remains the world's largest car market. It accounted for about a fifth of Tesla's revenues in 2020.
Meanwhile, DiDi states on its website that it has 587 million active users. Thus, the partnership with Xpeng is expected to help the latter tap hundreds of millions of Chinese consumers.
Xpeng isn't DiDi's only major partner in the auto industry. It also forged a partnership with Volvo in 2021 in a program that allowed Volvo access to DiDi's autonomous driving technology for the Swedish automaker's robotaxi fleets.
© Copyright IBTimes 2023. All rights reserved.